Kasganj Clash: UP's governor says incident 'shameful', a 'blot' on UP
The governor noted that such an incident had occurred in the state for the first time in the last 9-10 months and described it as "shameful"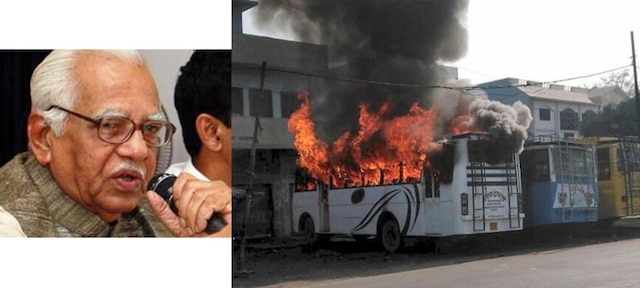 By:

PTI
Updated:
29 Jan 2018 05:40 PM
Lucknow
: In an embarrassment for the Uttar Pradesh government, Governor Ram Naik today termed the Kasganj communal clash as a "blot" on the state and asked the government to initiate measures to ensure such incidents did not recur.
The governor noted that such an incident had occurred in the state for the first time in the last 9-10 months and described it as "shameful".
District authorities in Kasganj, which witnessed clashes between two communities last week, said the situation was returning to normal even as four more persons were arrested in connection with the violence.
At least three shops, two buses and a car were torched after a youth was killed in clashes following stone-pelting by a mob on a motorcycle rally taken out to celebrate Republic Day.
ALSO READ:
Kasganj: Chandan's family refuses to accept compensation, demand martyr status for son
"Whatever happened in Kasganj was not good. The incident there is a 'kalank' (blot) for UP. The government is probing the incident. It should initiate effective measures to ensure that such incidents are not repeated," he told reporters here.
The governor's remarks came days after Vice President Venakiah Naidu advised the Yogi Adityanath government to improve the law and order in the state.
On asked about the situation in Kasganj, UP government spokesman and senior cabinet minister Sidharth Nath Singh today said he has seen reports that shops are opening now.
The situation is returning to normal, which is a good sign," he said.
Singh attacked the SP and the BSP for blaming the BJP government for the incident.
"Their comments reflect their appeasement towards a particular community. During their regimes, FIRs were not registered but our government will ensure unbiased probe into the matter," he said.
As many as 118 people have been arrested and security forces maintained a strict vigil.
The UP Police said drone cameras had been deployed for aerial surveillance and described the situation as improving.  Kasganj District Magistrate RP Singh today said, "The situation is normal now. A cheque of Rs 20 lakh has been given to family members of Chandan Gupta who died in the incident.
His family has demanded martyr status be accorded to him and if they give their letter, it will be forwarded to the government."
Explosives were found during house-to-house searches following which the state police chief said the stringent National Security Act (NSA) would be invoked against culprits.
Under the NSA, a person can be detained without bail or trial and authorities need not disclose grounds of detention.