Kashmiri Leaders Under House Arrest Will Be Released One By One: J&K Administration
Political leaders in Kashmir including NC's Farooq Abdullah and Omar Abdullah, PDP chief Mehbooba Mufti and J&K People's Conference leader Sajjad Gani Lone continue to be under house arrest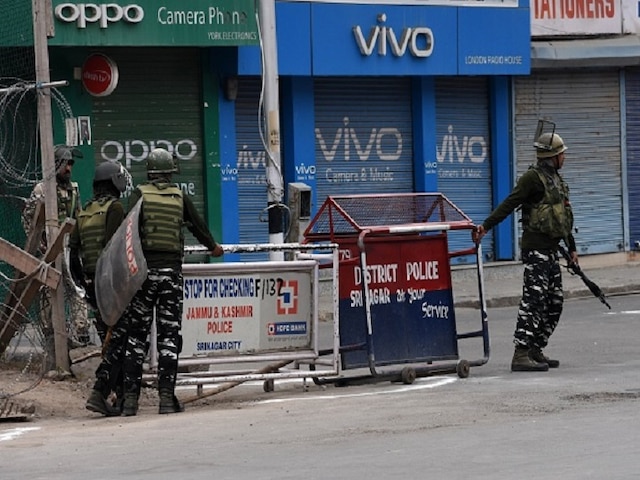 Srinagar: Kashmiri leader held captive by the Jammu and Kashmir administration since past two months will now be released one by one, but only after analysis, the advisor to Jammu and Kashmir governor Satya Pal Malik told news agency ANI on Thursday. Responding to the question on the status of detention or home arrest of Kashmiri leaders after leaders of Jammu were released recently, Farooq Khan said, "Yes, one by one after analysis of every individual, they will be released."

Political leaders in Kashmir including NC's Farooq Abdullah and Omar Abdullah, PDP chief Mehbooba Mufti and J&K People's Conference leader Sajjad Gani Lone, continue to be under house arrest post the Central government scrapped the special status for Jammu and Kashmir under Article 370 and imposed a security lockdown in the state.

Further speaking about the increasing activity of police and security personnel across the valley, Khan said that it was not due to any special kind of terrorist threat but was more of a preventive measure. "The administration has taken preventive measures by increasing its activity in the region. All forces including police, Army, BSF are on alert and will continue to give fitting reply to the terrorists," he said.

The Jammu and Kashmir administration on October 2 end detention of several leaders from political parties including Congress, National Conference (NC) and Jammu and Kashmir National Panthers Party (JKNPP) in Jammu. NC leaders Devender Rana and SS Salathia, Congress' Raman Bhalla and Panthers Party leader Harsh Dev Singh were among the prominent leaders who were freed from house arrest.

The move to release political leaders in Jammu came after the Election Commission (EC) announced polls to block development councils which is scheduled to take place on October 24. Currently, NC Chief Farooq Abdullah is in detention at his home in Srinagar. He has been charged under the "public order" section of the Public Safety Act, which allows authorities to detain a person for six months without trial.

Last month, former Jammu and Kashmir chief minister Mehbooba Mufti's daughter Iltija Mufti had sought information on detentions in the state on behalf of her mother. She also asked for details of detenues moved out of the state, the number of deaths, people booked under the Public Safety Act, and areas that are still under prohibitory orders.

According to several reports, nearly 400 political leaders were either detained or placed under house arrest as the Centre ended special status of J&K and bifurcated the state into two Union Territories -- Jammu and Kashmir Union Territory and Ladakh Union Territory. Over 250 petitions have been filed against the preventive detention orders against prominent political leaders in Jammu and Kashmir. Petitions have also been filed in the Supreme Court against the detentions.

Last month, Union Minister Jitendra Singh had said the Centre won't keep Kashmiri politicians under house arrest for more than 18 months and also added that they are not under arrest, but are living as 'house guests'. It is almost two months now that the leaders have been locked in at separate locations without any mode of communication with the outside world.