Kedarnath tragedy: This time devotees have broken all records, 2.75 lakhs already visited temple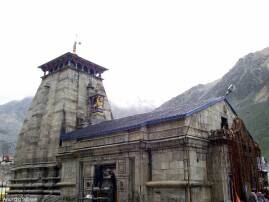 Kedarnath (Uttarakhand): Almost three years have passed when the multi-day cloudburst, centered on the North Indian state of Uttarakhand, caused devastating floods and landslides in the state's Devbhoomi Kedarnath. It also caused destruction on the outskirts of Badrinath.
As of 16 July 2013, according to figures provided by the Uttarakhand government, more than 5,700 people were presumed dead. This total included 934 local residents.
However, how things have changed in the past three years, to shed a light on this
Anurag Kumar of ABP Live
had a conversation with the CEO of Badrinath and Kedarnath Temple Mr. B D Singh (Baldev).
Image: CEO of Badrinath and Kedarnath temple trust B D Singh (Baldev)/ABP Live-Anurag Kumar
Here what he said:
Q1) How and to what extent 2013's natural disaster affected the flow of tourist in the holy temples of Badrinath & Kedarnath?
Mr. Singh:
By 2012, 10.5 lakh pilgrims used to come here to pay homage in Badrinath. If we talk about Kedarnath the figure was 5 to 6 lakhs. In 2013, after the natural tragedy that struck on June 16, the flow of devotees got affected considerably.
In 2014-15, very fewer devotees visited the holy temples. If we talk about 2015, in the entire season only 3.5 lakh visitors had come. In 2014, only 1.75 lakh devotees had paid homage.
However in 2016, devotees have broken record. Till now, 2.75 lakh visitors have already come here and if this flow continues then by the closing of 'Kapat' (Closing date for the temple) all record will be broken.
Q2) To what extent the temple got affected due to 2013 tragedy?
Mr. Singh:
The Kedarnath temple suffered some damage. In addition to it, the places where temple employees used to live and other associated infrastructure with the temple got damaged. At present also we don't have any infrastructure and we are living in a rented building.
However, very recently some devotees have donated money to the temple association (Mandir Samiti) and we are also getting considerable help from Uttarakhand government.
To revive the Kedarnath and Badrinath Yatra, state government help a lot and it is because of the swift action by the government that the devotees are now able to visit the temples.
Q3) Have you got help from the Narendra Modi led central government?
Mr. Singh:
Believers (in God) are in every government, all are coming forward to help.
Q4) What are your plans for the future as far as Badrinath Temple is concerned?
Mr. Singh:
At present, devotees have to stand in the queue up to 2 km for paying homage to the God. So we are planning to make good waiting rooms for them so that they can rest there and get all facilities and when their number comes, they visit the Badrinath temple.
Image: Badrinath temple/ABP Live-Anurag Kumar
Q5) To what extent the natural calamity affected the Badrinath & Kedarnath temple financially?
Mr. Singh:
In total, we have more than 700 employees and more than 10.5 crores we pay for their salaries and all this we manage from the donation of devotees. Because of that natural disaster that took place 3 years back, the flow of devotees got affected and it considerably hit us financially.
But this time, after seeing the excitement of devotees we are expecting that the normalcy will be restored.
Q6) While on the way to Badrinath, from Joshimath the road is totally damaged causing a lot of inconvenience to the devotees, what you have to say on that?
Mr. Singh:
Of course road till Joshimath is good. However, due to 2013 cloudburst road ahead in some places is washed off. Our BRO is working hard and in some time road will be smooth again.
At last, I will say that we are a country of people of faith and believers and in such country how can there be the lack of devotees?
Natural calamities have occurred earlier also but believers had come, are coming and will come.
About the 2013 calamity
In June 2013, a cloudburst hit Uttarakhand causing devastating floods and landslides. The D-Day of the flood was 16 June.
Destruction of bridges and roads left about 100,000 pilgrims and tourists trapped in the valleys leading to three of the four Hindu Chota Char Dham pilgrimage sites. More than 110,000 people from the flood-ravaged area were evacuated by the Indian Air Force, the Indian Army, and paramilitary troops.
It is pertinent to mention here that due to extreme climate the Badrinath-Kedarnath yatra is closed every year with the onset of winters.