Pathankot attack LIVE: Combing operation over, PM Modi says proud of our jawans and security forces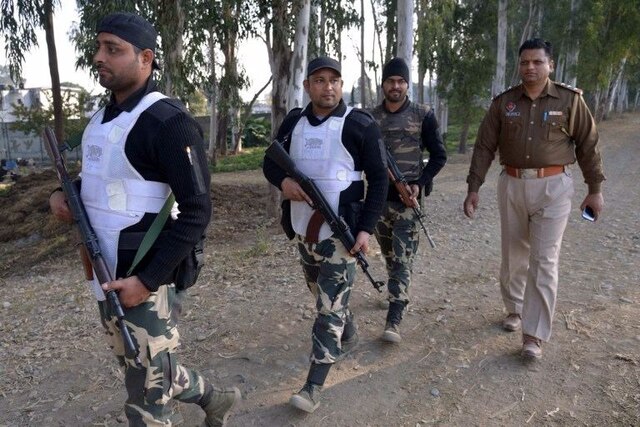 Pathankot:
A group of terrorists today struck at the Air Force base here in Punjab, triggering an encounter in which two attackers were killed, police said.





Proud of our Jawans and security forces: PM Modi


Enemies of humanity can't see India develop, such elements attacked in #Pathankot but our forces did not let them succeed: PM Modi



HM Rajnath Singh congratulates armed forces & other security forces on successfully neutralising all the five terrorists



#PathankotAttack All five terrorists gunned down, says Home Minister Rajnath Singh


Fifth terrorist gunned down, search operation underway


Fall out on FS Level talks if Pak Establishment is found involved in today's Pathankot Attack: Sources


Al-Rehman Trust operated in #Pakistan by Jaish chief commander Azhar Masood's brother Abdul Rauf Masood Azghar: Intelligence Reports


Qasim Jaan, Maulana Ashfaq, Abdul Gafoor associated with Al Rehman Trust in Pakistan - the masterminds behind #PathankotTerrorAttack


High level meeting between three Service Chiefs, NSA Ajit Doval and Defence Minster Manohar Parrikar ends.


Defence Minister Manohar Parrikar meets Army, Navy, Air Force Chiefs. Also present in the meeting is National Security Adviser Ajit Doval


Mortar, hand-grenades blasts heard, firing from helicopters also heard


Army men from neighbouring cantt areas reaching the area


Because of intelligent agencies' alertness, big loss averted: Rajnath Singh


Pakistan's hand in the attack: Rajnath Singh


Apart from the Mig 21 and Mi 35 assault choppers, the target was also the huge fuel reserve inside the base as that would have ignited a huge fire inside the base and given them cover if they wanted to escape







Drones pressed into service to search for terrorists


Mi25 attack helicopters pressed into service in Pathankot for search, surveillance & firing


3 jawans martyred, 6 injured


After a two-hour cease in firing, gunshots and grenade blasts were heard. More terrorists can be there


Highly placed security sources: There was specific alert for Pathankot airforce station attack yesterday evening. That is why Army Special Forces and NSG commandos were sent there yesterday evening. NSG team was sent from Delhi yesterday


We want good relations with Pakistan, but a befitting reply will be given to such attacks: Rajnath Singh


Intel agencies looking into the details of callsGovernment already in process of gathering all information with proof to prove the terrorists came from across the border


Agencies trace 4 phone calls made by terrorists to Pakistan


Combing operations are underway.The gunbattle between terrorists and security forces ended after more than five hours.However, the combing operation continues: Punjab Police ADGP (Law and
Order) H S Dhillon said.


The gunbattle between terrorists and security forces at the Air Force Base here that lasted for more than five hours and left two Air personnel and four terrorists dead, has come to an end.


Delhi Police wants one more day of remand of honey-trapped airman Ranjit


Pathankot attack: UAV surveillance of the area on


These terrorist entered Indian borders on December 31


2 dead bodies of terrorists recovered, 2 more yet to be recovered as are in a building


Sources say they  are from Bahawalpur in Pakistan




4 terrorists killed, 2 security forces martyred and 6 injured in Pathankot attack


Congress leader Surjewala raises concerns on national security


Terrorists have been stopped from entering technical area, all families inside station safe


Firing has stopped, search on


NSA Ajit Doval may talk with his Pakistani counterpart


NSA Ajit Doval has come out of control room, may apprise PM Narendra Modi about the attack


Home Minister Rajnath Singh is in touch with NSA Ajit Doval and Defence Minister Manohar Parikkar.


There may be 6 terrorists who attacked air base.


Police sources say 4 terrorists have been killed


That was quick. Here's the first major challenge to the PM Modi's bold Pakistan gambit: Omar Abdullah


Emergency meeting at air force headquarters in Delhi


Two jawans martyred


Equipments and air-crafts at the air base are safe


Suspicion on Jaish-e-Mohammad


Intelligence agencies had an input of such designs by terrorists 


NSA Ajit Doval supervising the operation


Air Force, Army and NSG commandos are combating terrorists


Suspicion on people who abducted Gurdaspur SP on Friday









Haryana, Jammu and Kashmir border sealed after the attack.


Firing is still on near the Air Force base Chakki river.


The terrorists, believed to be 4-5 in number, launched the attack at the base in the wee hours.


Gun fire shots can be heard from the both sides, SSP R K Bakshi said, adding that two suspected militants were killed in the battle.