Lok Sabha Election Results 2019: Counting begins across the country; Here're the latest trends
Let's have a look at the initial trends in different constituencies across the country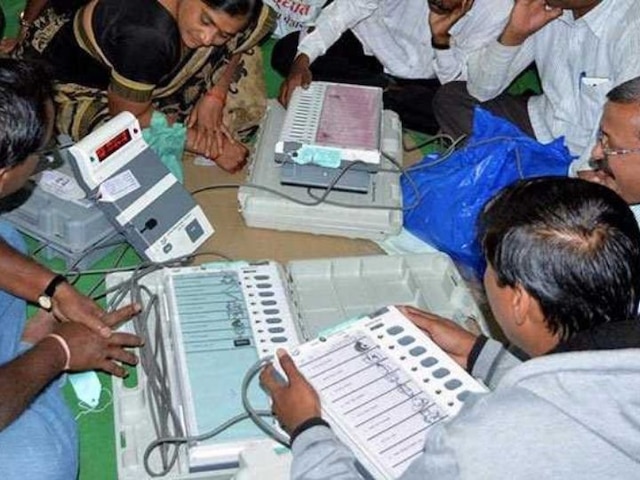 By:

PTI
Updated:
23 May 2019 11:51 AM
Counting of votes polled from April 17 to May 19 for the 542 Lok Sabha seats across the seven phases began amid tight security at 8 am Thursday. Let's have a look at the initial trends in different constituencies across the country.

Kerala

The initial trends showing that the Congress was ahead in 12 and the Left in seven seats. BJP's Kummanem Rajasekheran was ahead of Congress' Shashi Tharoor, the sitting member, in Thiruvananthapuram.

Congress President Rahul Gandhi was leading in Wayanad, official sources said.

Uttarakhand

Initial trends showed that BJP national Secretary Tirath Singh Rawat was leading at Pauri by over 2,000 votes.

Punjab

Shiromani Akali Dal (SAD) candidate and sitting MP Prem Singh Chandumajra is leading over his nearest rival and Congress candidate Manish Tewari from Anandpur Sahib seat in Punjab, as per initial EC trends. Chandumajra is leading by 593 votes over his rival Tewari.

BJP candidate Som Prakash is leading from Hoshiarpur (reserve) seat over his nearest rival and Congress candidate Raj Kumar Chabbewal by 675 votes, as per the trends.

From Faridkot seat, Congress candidate Mohd Sadique is leading over his nearest rival and SAD candidate Gulzar Singh Ranike by 588 votes.

In Ludhiana, Lok Insaaf Party candidate Simarjeet Singh Bains is leading over Congress candidate and sitting MP Ravneet Singh Bittu by 304 votes.

From Patiala seat, Congress candidate and former Union minister and the wife of Punjab Chief Minister Amarinder Singh, Preneet Kaur, is leading by 2,359 votes against SAD candidate Surjit Singh Rakhra.

Jammu & Kashmir

Extraordinary security arrangements have been made around the counting centres in Srinagar, Baramulla and Anantnag while the usual three-tier security is maintained around the counting centres for Jammu, Udhampur and Ladakh Lok Sabha seats.

Counting for the Ladakh seat is being held simultaneously at Leh and Kargil towns.

The fate of senior politicians whose electoral fortunes would be decided include the four-time Chief Minister and National Conference President Farooq Abdullah, who is seeking re-election from Srinagar.

In Anantnag, former Chief Minister Mehbooba Mufti of the PDP faces Ghulam Ahmed Mir of the Congress and Justice (Retired) Hasnain Masoodi of the NC.

Mehbooba Mufti faces the most serious challenge of her political career in this election.

Another constituency being closely watched is Udhampur where BJP's Jitendra Singh, Union Minister of State (MoS) is seeking re-election.

Singh faces a serious challenge from Vikramaditya Singh of the Congress.

Mizoram

Lalrosanga is leading by 5,130 votes against his nearest Independent rival Lalnghinglova Hmar in the lone Lok Sabha seat in the state, officials said.

Tamil Nadu

The DMK and its allies the Congress and MDMK were leading in three Parliamentary constituencies in Tamil Nadu, according to trends available from the Election Commission.

While DMK surged ahead in Tirunelveli, its ally MDMK and Congress were leading in Erode and Virudhunagar respectively, according to the EC.

The DMK fought 19 Parliamentary seats and its allies in the rest of 19 constituencies while elections were cancelled in Vellore.

Karnataka

The BJP is leading in all the five Lok Sabha seats out of 28 in Karnataka as per the initial

trends available so far, the Election Commission said. According to trends available for the five seats on the Election Commission of India website, Y Devendrappa of BJP was leading against Congress' V S Ugrappa by a margin of over 311 votes in Bellary.

In Dakshina Kannada, the saffron party's sitting MP Nalin Kumar Kateel was leading against Congress' Mithun M Rai by 1,912 votes.

In Davangere, BJP's sitting MP and former Union Minister GM Siddeshwara was leading against Congress' H B Manjappa by a margin of 953 votes.

In former Prime Minister H D Deve Gowda's family bastion of Hassan, his grandson Prajwal Revanna of JD(S) was trailing against A Manju, who quit Congress and joined BJP ahead of polls.

Manju was leading with a margin of 216 votes. Sitting BJP MP Karadi Sanganna was leading in Raichur against Rajashekar Hitnal of Congress by a margin of 1,710 votes.