Lynching cases higher under Congress regime: Amit Shah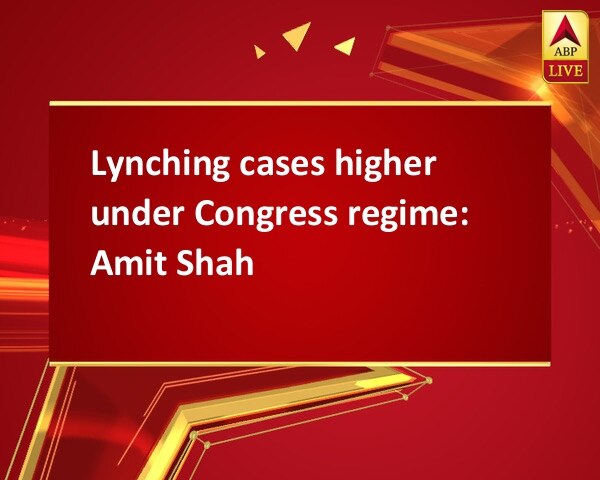 By:

ANI
Updated:
01 Jul 2017 11:20 PM
Panaji (Goa) [India], July 1 (ANI): Bharatiya Janata Party (BJP) president Amit Shah on Saturday disapproved that the cases of lynching in the country rose in the three years of the Narendra Modi Government, stating that the atrocities took place comparatively higher in the previous Congress regime.
"In 2011, 2012 and 2013, lynching cases were much more than three years of our government, but no one raised questions then. Even when Akhlaq was lynched, the Samajwadi Party (SP) was in the government. The law and order comes under the state subject, hence the responsibility fell on the SP, but they instead took out dharnas against Prime Minister Modi," Shah said.
Shah's comment came hours after President Pranab Mukherjee condemned the recent string of brutal lynching incidents emerging from across the nation.
He urged the country to pause and reflect and asked the people to be proactive enough to save India's basic system of belief.
"With the change of history we can see colonialism now as dominance, exploitation by one power to another power. When we see on the TV and read the newspapers that an individual has been lynched, and when the mob frenzy becomes so high and uncontrollable then we have to pause and reflect," the President said at the re-launch of the National Herald website.
"I am not talking of vigilantism, I am talking of are we vigilant enough proactively to save the basic tenets of our country?" he questioned.
Prime Minister Narendra Modi had strongly voiced out against the lynching incidents, saying that there are growing atrocities against innocent people in the guise of cow protection.
"Killing people in the name of Gau Bhakti is not acceptable. This is not something that Mahatma Gandhi would have approved. There is no place for violence in the society," Prime Minister Modi said at Sabarmati Ashram centenary celebrations in Ahmedabad.
The Prime Minister asserted that violence is not a solution of any problem and no one has the right to take the law in his or her own hands in this nation.
A Jharkhand man was attacked by a mob on the suspicion carrying beef in his car on Thursday.
He was stopped by a group of people near Bajartand village before being brutally killed. (ANI)
This story has not been edited. It has been published as provided by ANI