Maharashtra Assembly Elections 2019: Sanjay Dutt Supports Aaditya Thackeray, Says- 'We Need Dynamic & Young Leaders'
Bollywood actor Sanjay Dutt backed Aaditya Thackeray, who is making his debut in electoral politics in the Maharashtra Assembly elections 2019.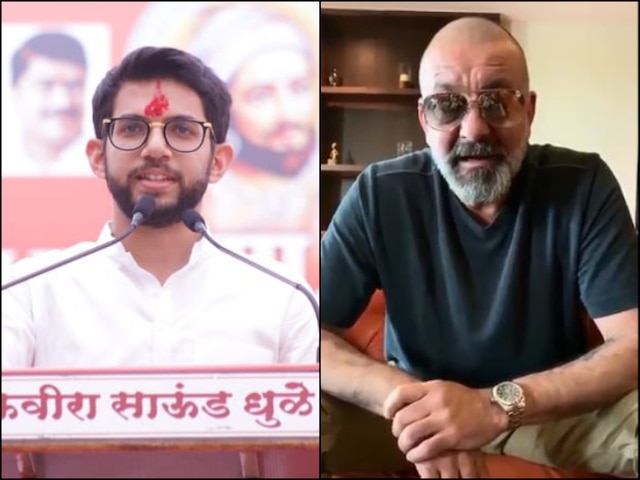 New Delhi:
Bollywood actor Sanjau Dutt extended his support to Aaditya Thackeray, who is contesting the Maharashtra Assembly elections 2019 from Worli in Mumbai. In a video posted on Twitter, the 'Khalnayak' actor called the Yuva Sena chief his 'younger brother' and hoped that he would win the elections with a huge mandate. The 'Vaastav' actor added that the country needed dynamic and young leaders like him.
"He comes from a fantastic lineage of Balasheb Thackerayji, who supported me and my family immensely and was like a father figure to me. I can never forget that. Uddhav bhai is the same. I hope Aditya wins with a huge mandate because we need dynamic young leaders in our country. Jai Hind, Jai Maharashtra," Sanjay Dutt was quoted as saying in the video.
Check out the video!



Shivsena for one and all !!!
Shivsena for Maharashtra !!!
First choice and the best choice ????
Love and support for @AUThackeray Ji heartfelt words by @duttsanjay Dutt Sahab ????
together we can... New Maharashtra !!! pic.twitter.com/zl2nmp0fTZ


— Rahul.N.Kanal (@Iamrahulkanal) October 15, 2019


Aaditya Thackeray is the first member of his family to contest an election. Ever since late Bal Thackeray founded Shiv Sena in 1966, no member of his family contested any election. Earlier this month, the 29-year-old filed his nomination papers from the Worli Assembly seat in Mumbai.

Before filing his nomination papers, Aaditya prayed before a portrait of his late grandfather at his family home 'Matoshri' in Bandra. He had  shared a picture on social media.




???????? pic.twitter.com/uYgWnrnf1p


— Aaditya Thackeray (@AUThackeray) October 3, 2019



Aaditya, whom his party wants to be the deputy chief minister if the BJP-Shiv Sena alliance retains power in Maharashtra, is pitted against NCP's nominee Suresh Mane, a Dalit leader.

Watch this space for more updates!

(With inputs from PTI)