Maharashtra CM Devendra Fadnavis's Wife Amruta Calls PM Modi 'Father Of Our Country', Sets Twitter Abuzz
Chief Minister's wife faced criticism on social media where many of the Twitter users pointed out that Mahatma Gandhi is called the "Father of the Nation".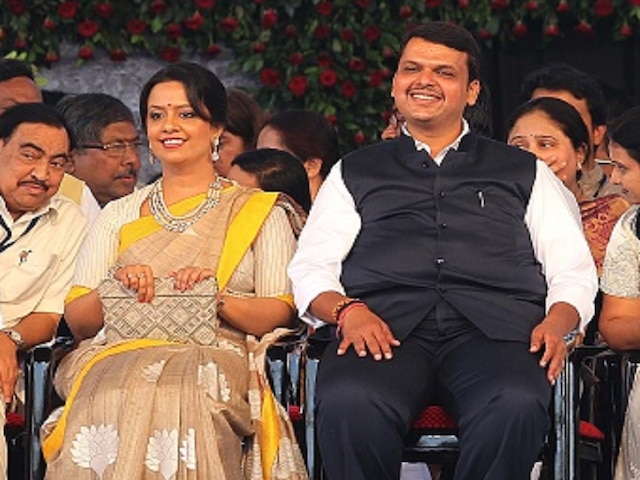 New Delhi:
Maharashtra Chief Minister Devendra Fadnavis's wife Amruta Fadnavis, was among several people who wished Prime Minister Narendra Modi on his birthday on Tuesday. However, her tweet sent ripples across the Twitter spectrum after she called Narendra Modi as 'the father of the country'. Wishing PM on his 69th birthday, Amruta took to twitter and wrote, "Wishing the Father of our Country @narendramodi ji a very Happy Birthday - who inspires us to work relentlessly towards the betterment of the society!" Along with the post, Amruta also shared a small video of her while singing with some children.



Wishing the Father of our Country @narendramodi ji a very Happy Birthday - who inspires us to work relentlessly towards the betterment of the society ! #HappyBDayPMModiJi #HappyBdayPMModi #HappyBirthdayPM #happybirthdaynarendramodi pic.twitter.com/Ji2OMDmRSm


— AMRUTA FADNAVIS (@fadnavis_amruta) September 17, 2019
After this, Chief Minister's wife faced criticism on social media where many of the Twitter users reminded her of the original title holder and pointed out that Mahatma Gandhi is called the "Father of the Nation", on the other hand, some shared memes in the comment section. Here's take a look at how the Twitter users the reacted to Amruta Fadnavis's tweet:



Father of nation is Mahatma Gandhi and now this father of country is new🤔🤔 When did PM Modi become father of country and how?? what betterment of society really happened now with unemployment rising like never before and with economy facing slowdown🤔https://t.co/jLIW79vTYR


— Vidya (@Vidyaraj51) September 17, 2019



Not sure which country you are talking about ma'am. The father of my nation is Mahatma Gandhi.


— Shantanu (@shantanub) September 17, 2019



Pl make such statements on your own behalf...Not on behalf of the country...


— CA Bharathy Easwar (@Bse02189763) September 17, 2019



2 October Shifted To 17th September In New India ..


— Niraj Bhatia (@bhatia_niraj23) September 17, 2019



Aaj Parivar poora hua. pic.twitter.com/KCcAEMGJqC


— क्रूर सिंह (@kroor_singh_) September 17, 2019


— Frustrated Engineer (@UPkaLounda) September 17, 2019


— THE SKIN DOCTOR (@theskindoctor13) September 17, 2019