Maharashtra Elections 2019: Sena Debutant Aaditya Thackeray Wins From Worli
Initial trends suggested a lead for Shiv Sena candidate Aaditya Thackeray , who is making his electoral debut with the Maharashtra Assembly elections.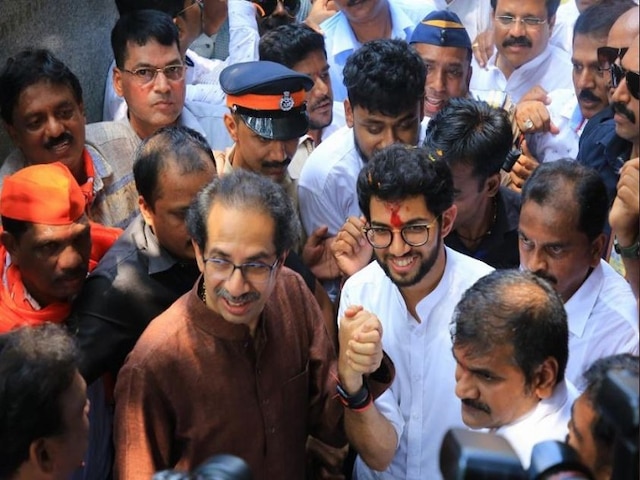 Mumbai (Maharashtra Elections 2019):
 Shiv Sena candidate Aaditya Thackeray , who is making his electoral debut, won the Worli assembly seat by over  67,000 votes.  The 29-year-old Thackeray scion was pitted against NCP's Suresh Mane. He is the first member of the Thackeray clan to contest an election. Shiv Sena's sitting MLA, Sunil Shinde made way for Aaditya in Worli which is considered to be a safe seat.
The Shiv Sena has been projecting Aaditya as the chief ministerial face in case the party bags the highest number of seats in the Assembly elections.
Counting of votes began at 8 am for Maharashtra Assembly elections, and the immediate trends before 8:30 am projected Sena leading on 11 seats and BJP on 12, while Congress was leading on 7 seats.


According to ABP News-C Voter Exit Poll, the BJP-Sena alliance will win 210 seats out of 288, the Congress-NCP combine is likely to win 63 seats together, while other parties in the fray may get rest of the 15 seats.

The Thackeray scion who broke the family tradition to contest elections from Worli assembly seat is expected to clinch the seat which is considered to be Sena's traditional stronghold.

Polling for all 288 Assembly seats in Maharashtra was held on October 21 and counting of votes is underway.

Stay tuned to LIVE updates of Assembly election results here

The state has over 8.9 crore eligible voters, of which the number of service voters stand at around 1.17 lakh. The main parties in the fray are the BJP, the Shiv Sena, the Congress and the Nationalist Congress Party (NCP).

The NDA alliance is squaring off against the Congress-NCP combine in the crucial contest characterised by defections from the Opposition camp. The contest also has the undertone of the BJP battling for supremacy over the Sena, which considers itself as the "elder brother" in state politics, which wasn't the case in previous assembly polls.