Maharashtra Elections 2019: Shiv Sena Poll Manifesto Promises Rs 10/Meal, Sops For Farmers
Besides the promised healthy diet, the Sena will also take care of public health by proposing a comprehensive 200-tests medical checkup for only Re 1.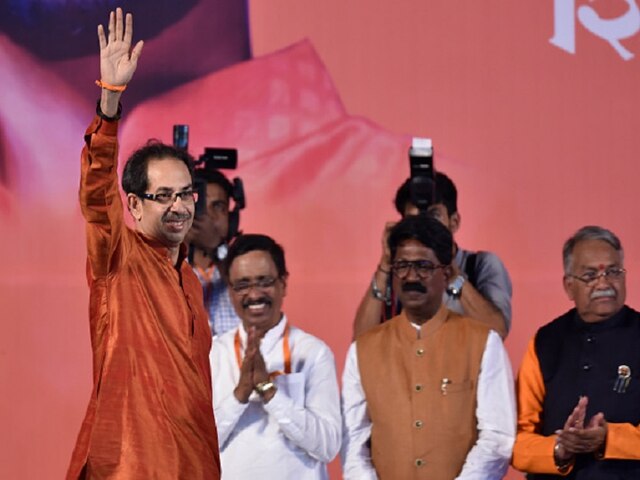 Mumbai: 25 years after it had launched Re 1/meal Zunkha Bhakar scheme for the poor in the state, the Shiv Sena announced a 10-fold hike - Rs 10 for a hearty and nutritious plate of food at 1,000 eateries - as part of its Manifesto for a 'bright Maharashtra', here on Saturday. Besides the promised healthy diet, the Sena will also take care of public health by proposing a comprehensive 200-tests medical checkup for only Re 1.

"We are fighting the October 21 elections with a dream for a 'bright Maharashtra'. In the past we have delivered all our pledges and whatever was left incomplete, shall be done now. We shall definitely fulfill these promises," Shiv Sena President Uddhav Thackeray assured amidst applause by the gathering.

Aditya Thackeray, who is contesting from Worli in south Mumbai, said that whatever public demands came up during his recent state-wide 'Janashirwad Yatra' have been incorporated in the manifesto.

Thackeray Sr. said that the manifesto was prepared jointly by the women and Sena leaders for maximum inclusiveness, but taking precautions that it does not put too much burden on the state exchequer.

The Sena has promised concessional electricity rates of up to 30 per cent for consumption below 300 units and low-cost fertilizers for farmers, and an independent aid of Rs 10,000 per farmer to ensure that one is covered under the crop insurance scheme against the existing policy of farmers getting compensation only when the whole village is affected.

The manifesto also promises construction of 50,000-km roads, particularly the countryside and smaller towns by creating a CM's Fund for Roads, and including Women Self-Help Groups for providing the subsidized meals at central kitchens in all districts.

For lakhs of rural students who experience difficulties in commuting to reach their schools/college, the party will start special free or concessional bus services in such areas.

"Each promise has been carefully weighed, estimated financially and worked out to ensure it will run successfully. The team which prepared the manifesto included Shubha Raul, Priyanka Chaturvedi, Sheetal Mhatre, Kishori Pednekar, Jyoti Thakare, Subhash Desai, Vinayak Raut, Sachin Ahir, Anil Parab, Suraj Chavan, Varun Sardesai, among others," said Aditya.

He added that the party doesn't make a 'formal manifesto' but it's a 'Vachan Patra' and the promises (vachan) would be fulfilled to the people of Maharashtra.

To a question, he said this was a general manifesto for entire Maharashtra, and soon there will be separate regional or district-wise manifestos highlighting local issues, like the environmental issues after the chopping of trees in Mumbai's Aarey Colony last week.

Interestingly, though the Sena is contesting the elections jointly with ally Bharatiya Janata Party, both parties decided to release separate manifestos.