Maharashtra Elections: 'BJP-Sena alliance will win 225 seats,' Says Union Minister Piyush Goyal
Goyal said that the opposition has lost all credibility and is nowhere in the contest.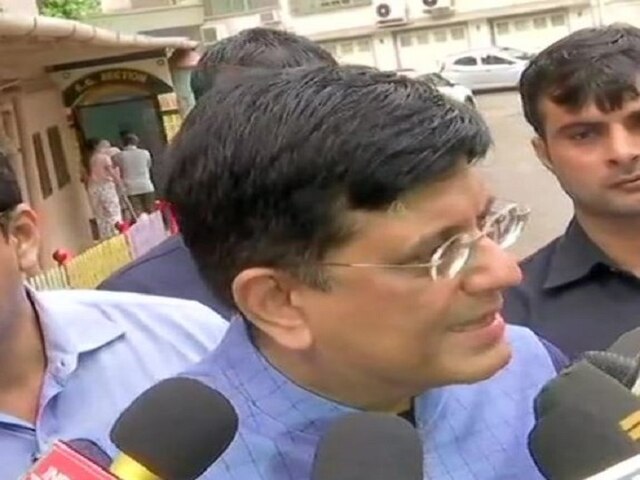 New Delhi: Union Minister of Railways and Commerce Piyush Goyal on Monday expressed confidence that the Bharatiya Janta Party and the Shiv Sena alliance in Maharashtra will get a sweeping victory in the elections, polling for which is underway today.

Interacting with media outside a polling booth in Mumbai,  Goyal said: " I am confident that the BJP-Shiv Sena alliance will win around 225 seats. People are with Modi ji and Fadnavis ji."

He said that the opposition has lost all credibility and is nowhere in the contest.

Polling began on Monday morning in all 288 Assembly constituencies of Maharashtra where 3,237 candidates, including 235 women, are in the fray.

The voting commenced at 7 am and will end at 6 pm.

The electioncampaign, which ended on Saturday evening, was dominated by the BJP's aggressive narrative of the abrogation of Article 370 in Jammu and Kashmir.

The state has total 8,98,39,600 voters, including 1,06,76,013 in the age group of 18 to 25 years.

Nearly 6.5 lakh polling personnel have been deployed at 96,661 polling booths across the state.

Around 1,35,021 VVPAT (voter verifiable paper audit trail) machines have also been installed.

Of the 288 constituencies, Nanded-South seat has the maximum 38 candidates, while Chiplun in Ratnagiri district has just three nominees.

In the 2014 elections, the BJP won 122 seats, the Shiv Sena-63, the Congress-42 and the NCP-41.

Later, two by-elections were held due to death of MLAs Krushna Ghoda (Palghar) and Bala Sawant (Bandra-East).

The Sena manged to retain both the seats.

In the run-up to the polls, several legislators of the Congress and NCP switched sides to the ruling BJP and Sena.

Some of them also managed to get tickets for the ongoing polls.