Maharashtra Hailstorm: 1.25 lakh hectare of crops damaged across 1,086 villages
The 11 affected districts were identified as Beed, Jalna, Parbhani, Jalgaon, Buldana, Amravati, Akola, Washim, Latur, Osmanabad and Hingoli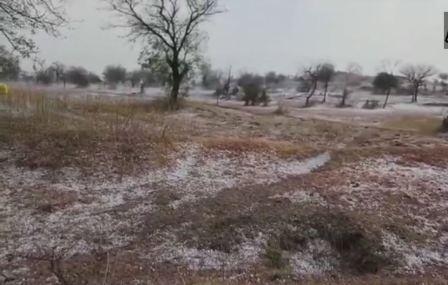 By:

PTI
Updated:
12 Feb 2018 10:03 PM
Mumbai
: The hailstorm that hit several parts of the state yesterday damaged crops over an area of 1.25 lakh hectare across 11 districts, Maharashtra Agriculture Minister Pandurang Fundkar said on Monday.
"A primary damage assessment report has stated that over 1.25 lakh hectare of crops were damaged in 1,086 villages of 11 districts. Buldana, Amravati and Jalna are the three districts which have reported maximum damage," Fundkar said.
"Wheat, green gram (chana), sweet sorghum (jowar) and onion are the rabi crops, and grapes, that have been damaged," the minister informed, adding that banana plantations and vegetables were destroyed in Jalgaon district.
ALSO READ:
UP's LLB student killing: Mob sets bus on fire; Mayawati says death was over casteist politics
The 11 affected districts were identified as Beed, Jalna, Parbhani, Jalgaon, Buldana, Amravati, Akola, Washim, Latur, Osmanabad and Hingoli.
He said that the assessment of the damage would continue for another two days after which farmers would be awarded compensation depending on the surveyors' report.
Meanwhile, Ravikant Tupkar, a senior leader of the Swabhimani Shetkari Sanghtana, on Monday demanded that those affected by the hailstorm should be granted Rs 50,000 per hectare as compensation, failing which the party would launch an agitation.