Mamata and Kejriwal hold joint public rally in Delhi against demonetisation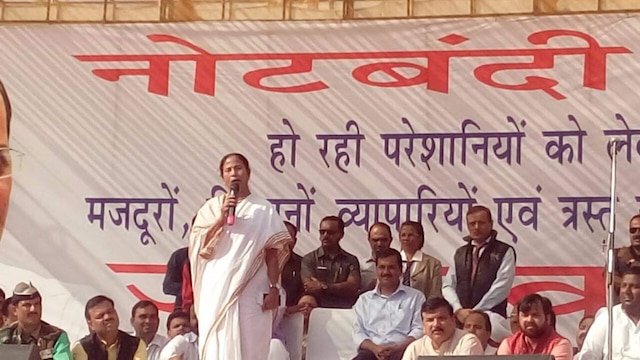 New Delhi: The opposition to demonetisation of Rs 500 and Rs 1000 currency notes escalated on Thursday afternoon as Bengal Chief Minister Mamata Bannerjee and Delhi Chief Minister Arvind Kejriwal held a public rally in the national capital's Azadpur Mandi area to criticise the same.


During the rally Mamata, who looked very agitated started off her speech by calling demonetisation an 'economic emergency'




She also said that "there is financial crisis in the country and people suffering due to the same




Mamata questioned PM Modi over the currency ban saying, "Will we eat diamonds and ATMs?"




She also said that "trucks are stranded on the road. Our drivers have no money, they are hungry and are starving" she added saying, "This government has sent the nation 100 years back"




Mamata claimed to intensify her protest if the order isn't revoked by PM Narendra Modi in 3 days




After Mamata, Kejriwal slammed PM Modi saying, "I don't see Ambanis and Adanis standing in bank queues. Kejriwal claims that "Corruption is still happening"