Manipur headed for hung assembly as Congress, BJP clash for top spot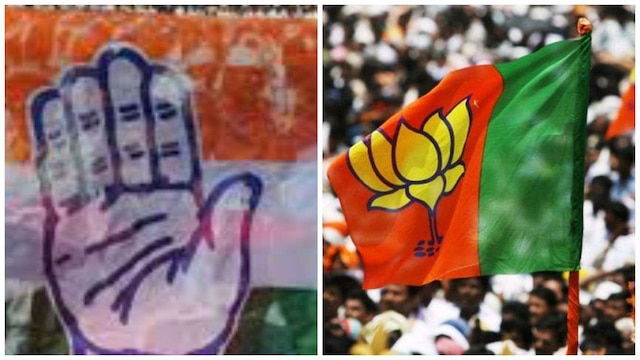 Imphal: Manipur seemed to be inching towards a hung assembly with the ruling Congress and the BJP locked in a tantalisingly close fight to emerge as the single-largest party with the vote count nearing its end on Saturday.
Of the 57 results in the 60-member assembly declared so far, the Congress marginally ahead with 26 seats and the Bhartiya Janata Party on 22 seats while others on 9 seats.
As per the latest overall trends (including the seats already declared, the Congress - in power for the past 15 years with Okram Ibobi Singh as the Chief Minister - and the BJP had won or were leading in 24 seats each. The National People's Party could end up with three seats, while others were frontrunners in six seats.
A big story of the election is the emergence of the BJP as a formidable contender for power. Having finished without any seat five years back, it has come up with its best-ever showing inin the northeastern state. While it is certain to finish as one of the two largest parties, its leaders were hoping to do one better with 22 results yet to come.
The Congress was putting up a good show, with the BJP giving them a close run for money, in the six districts of the Imphal Valley comprising 40 constituencies.
In the ten hill districts, where the Congress is comparatively weak, the BJP and the NPF were battling it out for the 20 seats. The NPF was leading in all three seats in Senapati district.
Ibobi, who spearheaded the Congress campaign in the run up to the elections, also led its winners' list by retaining the prestigious Thoubal seat defeating rights activist and People's Resurgence and Justice Alliance party nominee Irom Sharmila, who got fewer than 100 votes.
The three-time Chief Minister won comfortably with over 15,000 votes over Leitanthem Basanta Singh of the BJP.
With two other PRJA nominees suffering humiliating defeats, it was a stunning blow for Sharmila, who had aimed to become the Chief Minister to repeal the stringent Armed Forces Special Power Aact, against which she had continued her fast-unto-death for 16 years.
Another prominent Congress winner was state minister Akoijam Mirabai from Patsoi.
Two heavyweight BJP winners were T. Radheshyam, who had resigned from the Indian Police Service ahead of the elections, and party spokesperson N. Biren.
Nothwithstanding its impressive showing, the BJP suffered a big setback, with the defeat of former Union Minister and ex-state party chief Thounaojam Chaoba Singh - regarded as its Chief Ministerial candidate - from Nambol.
Another prominent BJP loser was former director of Regional Institute of Medical Sciences L. Fimate in border constituency, Tipaimukh.
So far Nemcha Kipgen of the BJP and Mirabai of the Congress are the only two women to have won of the 11 in the fray.