BJP set to win MCD elections, AAP runner-up: ABP News survey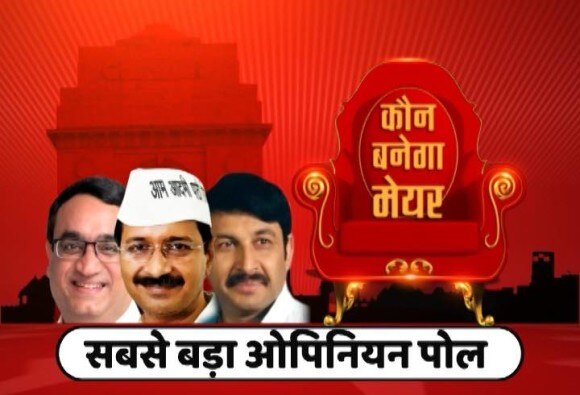 NEW DELHI: The ruling BJP is likely to stay ahead of opponents and win all three municipal corporations in the National Capital in the upcoming MCD elections, ABP News survey predicted on Wednesday.
According to the survey the BJP would emerge as the winner in MCD elections with 36 percent popular support followed by AAP with 26 per cent respondents voting for the first-timer. The Congress party will remain at third position with merely 17 per cent voting for it.
The pre-election survey has also thrown up a major paradox where majority of the Delhiites are not satisfied with ruling BJP in MCD. Yet when it came to voting intentions, it is the BJP that emerged on top edging out its main political opponents the AAP and Congress.
When asked about whether they are satisfied with the work of Arvind Kejriwal as chief minister, opinions of respondents were divided. However, it was clear that the popularity of Kejriwal among Delhiites, who gave a thumping majority to AAP is 2015 Assembly elections, has declined.
The survey found the majority of people were unhappy with their councilors in MCD. BJP, which has been ruling all three MCDs for 10 years, has already decided to drop all its sitting councilors from the list of candidates, a move intended to "infuse fresh blood" into civic body polls.
The erstwhile unified Municipal Corporation of Delhi was trifurcated in 2012 into North, South and East Municipal Corporation or NDMC, SDMC and EDMC respectively.
The much-awaited polls will decide the fate of 272 councillors. While NDMC and SMDC have 104 seats each, EDMC has 64 seats.  The total number of electorate for the civic polls stands at 1,32,10,206, which include 73,15,915 men, 58,93,418 women and 793 voters in the other category.
Number of seats reserved for woman in North MCD is 42 while in South MCD is 45. East MCD has 27 seats reserved for women.
For the first time in MCD elections, None Of The Above (NOTA) option will be available. The State Election Commission said that voters can exercise their franchise after producing photo electoral rolls, electors photo identity cards and photo voter slips.
The polls for 272 wards of three civic bodies--North, South and East Delhi Municipal corporations--will be held on April 23 while the results will be out on Arpil 26.
(With inputs from PTI)