BJP leader Sakshi Maharaj booked for blaming Muslims for population rise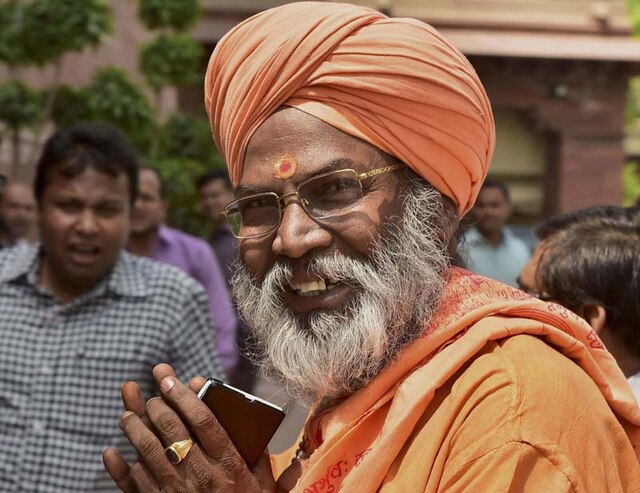 Uttar Pradesh: A police case was registered in Meerut against BJP leader Sakshi Maharaj on Saturday over his controversial comment against Muslims on population control, under section 298 of IPC among others.
Maharaj sparked a massive row via his controversial remark, where he was indirectly heard blaming Muslims for population rise in the country, while addressing a rally in Uttar Pradesh's Meerut.
While commenting on the increase in population, Sakshi said "is increased by those who support the concept of four wives and 40 children."
He also asserted that the Government should implement Uniform Civil Code (UCC) as soon as possible. Ironically the statement came just 2 days after EC briefing where election dates for Uttar Pradesh were announced.
Details of IPC sections below:


153b - Imputations, assertions prejudicial to national-integration




295a - Deliberate and malicious acts, intended to outrage religious feelings or any class by insulting its religion or religious beliefs




188 - Disobedience to order duly promulgated by public servant




505(3) - Offence in a place of worship




298 - Uttering, words, etc., with deliberate intent to wound the religious feelings of any person




171 - Wearing garb or carrying token used by public servant with fraudulent intent.


As the comments by the MP from Unnao in poll-bound Uttar Pradesh drew strong condemnation from opposition parties, the Election Commission sought a report from Meerut district administration. Congress said it will file a complaint against the MP before the Election Commission.
Distancing himself and the party from Sakshi's statement, Union Minister Mukhtar Abbas Naqvi on Saturday said, "This shouldn't be seen as BJP's stand".
Earlier, UP Congress leader Akhilesh Singh had also reacted on Sakshi's remarks by slamming him. He said, "The BJP leader's communal remarks are a trick to divert attention from promises made by PM Modi. He should be dismissed from Parliament and BJP should expel him from the party".
Congress also moved Election Commission on Saturday over the same.