Meet Biplab Kumar Deb, Who Is Going To Be The Next Tripura Chief Minister
A source says that he has a no-nonsense image in the BJP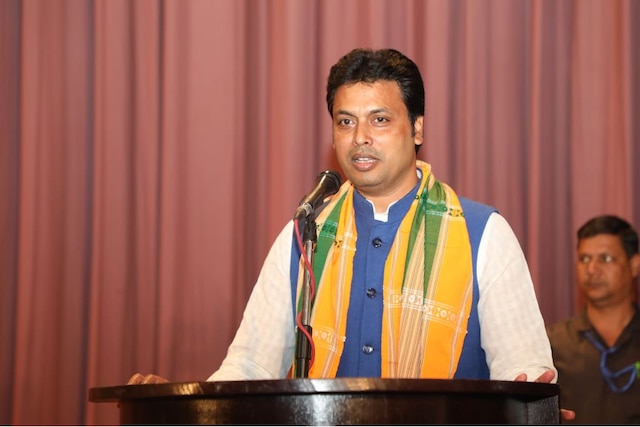 Agartala: 
BJP state president Biplab Kumar Deb was on Tuesday elected the new chief minister of Tripura.
Deb was unanimously elected leader of the BJP legislature party in the state, and will stake claim to form government in Tripura before Governor Tathagata Roy. The 48-year-old leader will soon take oath as the Chief Minister of the northeastern state today at a grand ceremony.
So who is this young leader?
He is currently the president of Tripura BJP and is leading against his CPM rival in Banamalipur assembly constituency in Agartala.


Deb was born in Udaipur subdivision of south Tripura. He has spent a lot of years in RSS HQ in Nagpur.


Sunil Doedhar, the BJP's prabhari for Tripura, was Deb's trainer in the RSS and the veteran, KN Govindacharya was his mentor


Deb was sent to Tripura from the national capital where he pursued his studies. While in Delhi, he worked as a professional gym instructor


He was elected as president of state unit of BJP by state committee in January 2016. He had replaced Sudhindra Dasgupta, the longest-serving president of the party.


He is said to have done a lot of ground works to popularize BJP in villages.


A source says that he has a no-nonsense image in the BJP


Deb had brought in key BJP ministers from across the country to campaign for the party in Tripura and worked closely with the BJP and the RSS to end the CPM's hegemony


His wife is a deputy manager with the Parliament House branch of the State Bank of India and they have two children.