Meet Lakshmikutty, the 75-yr-old Padma Shri awardee from Kerala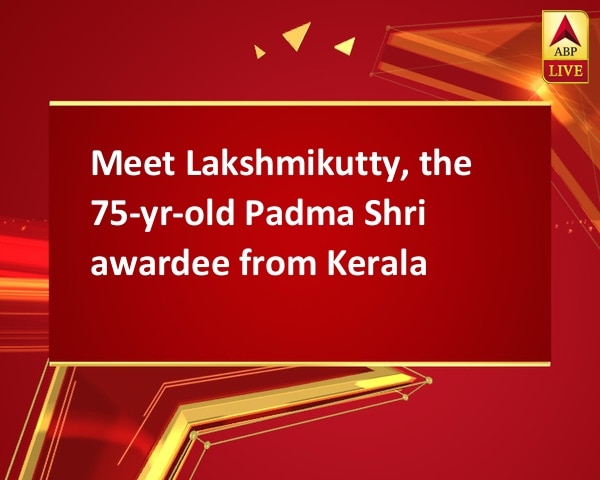 By:

ANI
Updated:
28 Jan 2018 09:25 AM
Kallar (Kerala) [India], Jan 28 (ANI): A 75-year-old tribal woman from Kallar forest area has received the country's fourth highest civilian honours Padma Shri Award for her breakthrough in practising traditional medicine.
Lakshmikutty Amma, who is a famous poison healer practicing traditional medicine, told ANI, "I feel happy that my country accepted me. I haven't felt happier. The District Collector called and informed me that I was selected for Padma Shri. I am in this field for last 50 years and the Kerala government recognized my work and awarded me as well. A few of the people had claimed that I would win the Padma Shri award".
Amma, who also writes poems, dramas and is a teacher in folklore academy, revealed that she got this knowledge from her mother who was a traditional midwife.
She belongs to Kaani tribe and can remember more than 500 varieties of medicine. She has attained the education of 3rd forum and knows Sanskrit.
Amma, whose husband died two years back, stays alone in the forest and grows medicinal plants around her house. Her two sons passed away and the third one is working in the Railways.
"My mother was also a traditional medicine practitioner. She was a midwife. My mother passed down the knowledge to me. I keenly watch the nature, it has all the remedies. Even animals and fish have medicinal power", she added.
However, Amma who has been awarded so many honours live in difficult circumstances.
"There is no road to my home. It was approved in 1952, but the work hasn't started till now", she said.
Amma said she hopes the government will consider it.
"We have to travel many kilometres through the forest. There are wild animals including elephants. People cannot bring patients in time. Hence, I request the government to do something about it", she added.
Amma said that she practices in treating snake poison as well.
"My son died due to snake poison, so I gained all the knowledge I could on it. When one is injected with poison it is important to suck it out at the earliest, but with no roads and no hospitals nearby, it is a dangerous issue in the village as we live amidst wild animals", she said. (ANI)
This story has not been edited. It has been published as provided by ANI