Meet Sunil Ladka, a tribal student who cracked IIT JEE 2016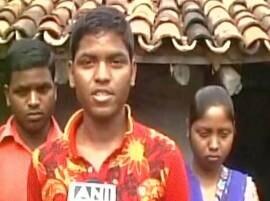 By:

ANI
Updated:
19 Jun 2016 03:56 AM
SARGUJA (CHHATTISGARH): Where there is a will, there is a way - this inspiring proverb has yet again been proved right by Sunil Lakda, a tribal student from Chhattisgarh's Sarbuja village, who fought against all odds to achieve the feat of cracking the IITJEE exam courtesy the Chhattisgarh Government's 'Prayas Programme' - a special coaching initiative of the state's tribal welfare department.

Coming from an extremely poor family, this wonder-boy has secured an all-India rank of 1021 in the coveted engineering entrance examination.

Sunil told as to how he did not have money to even buy his books and what circumstances he had to face in order to clear the IIT, one of the toughest examinations in the country.

He credits his success to his parents and his teachers who provided him not only the resources, but the confidence and the moral support.

"I would like to credit this success to my teachers and my parents who stood by my side all the time. I used to work for five to six hours daily. I used to focus on self study because I believe it is the most important aspect to crack any exam," Sunil said.

"My family was not even able to buy books. But I had contacts with the teachers at the school who used to issue me books and also used to give me their books," he adds.

Sukhal Ram, Sunil's father, is very proud at his son's achievement and says that he wants him to serve the nation and bring laurel to his family.

"We are very poor. We did not have enough money. We somehow managed to provide education to our children. We toiled hard on our farms so that our children can become educated and responsible citizens of our country. We are very happy that he has cracked the exam," Ram said.

Through this feat, Sunil is now serving as a source of inspiration for all other youngsters in his village.

The Prayas Programme was launched by Chhattisgarh Chief Minister Raman Singh's government in July 2010 under which meritorious students from the Left Wing Extremism (LWE) districts and other tribal areas were kept in tribal hostels in the state capital and were imparted coaching along with the regular studies at the higher secondary level.