Memorial for Shaktiman: made and removed in a day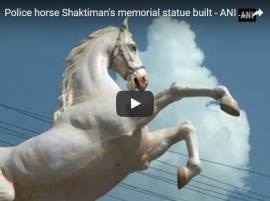 New Delhi: The Uttarakhand government paid homage to Shaktiman, the horse who succumbed to injuries in April this year, after allegedly being attacked by BJP legislator Ganesh Joshi in Uttarakhand's Dehradun city.

The state government built a memorial for Shaktiman, who served the police for 14 years so that he could be remembered forever.

To everyone's surprise, the state government's tribute to horse Shaktiman lasted only for one day, as the horse's statue was removed the very next day on Tuesday morning following criticism of tribute being paid to a horse while the state doesn't have any memorial for its dead soldiers.



The horse drew a lot of sympathy on social networking websites following the incident where his leg was broken. Wildlife lovers from across the world came down heavily on the accused legislator.

Following the removal of statue, a second statue of Shaktiman has been installed at the police headquarters but the future of the same is also not certain.