Mohammed bhai breaks silence, rubbishes Hasin Jahan's 'match-fixing' allegations against him and Mohammad Shami
Mohammed bhai, a London based businessman, on Wednesday rubbished 'match-fixing' allegations that Mohammed Shami's wife Hasin Jahan had levelled against him and her husband. He also denied know anything about a Pakistani model Alishba, who was at the centre of Shami and Hasin's marital strife.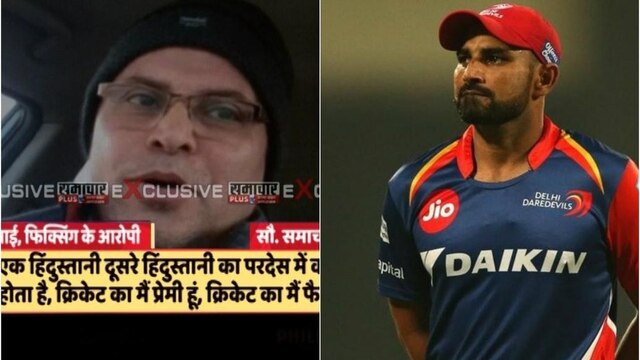 NEW DELHI: Team India pacer Mohammad Shami's wife Hasin Jahan had accused her husband of receiving money from a London based businessman Mohammad Bhai through a Pakistani woman named Alishba. She had claimed Shami may be involved in match-fixing as he had met Alishba in Dubai who gave him money sent by Mohammad Bhai from the UK.

However, Mohammad Bhai rubbished Hasin Jahan's allegation against him and Shami saying he doesn't know any woman by the name of Alishba. He said he had met Shami and his wife in London but has no idea who Alishba is.

"I had met Shami and Hasin when the cricketer was on England tour for matches. Hasin used to call me 'bhaiya' (brother) and I respect her because she is like a sister to me. Whenever they (Shami and Hasin) wanted to go for a meal or shopping, I used to take them out," Mohammad Bhai said.

"I own a small business of mobile phones which keeps me busy most of the times but I still used to go to meet them whenever required. We used to ate and travel together," he added.



Mohammad added that when the couple was heading home from the UK, he along with his family went to the London airport to see them off.

Mohammad said he was born in Surat, Gujarat and residing in the UK from last 25 years.

"I own a small business of mobile phones here in London. I earn money through lawful and legitimate ways. I am not any influential person but a commoner, who lives with his family happily in a small house," he said.

Mohammad also rejected Hasin Jahan's allegations that he gave money to Shami through Alishba.

"Neither have I done anything wrong, nor am I associated with such things. I never talked of match-fixing or offered money to anyone. I was born India and won't ever let my country down," Mohammad said.

"I am hearing the name Alishba for the first time through the media. I have never met any woman called Alishba in my life. I am open to any probe by the BCCI or anti-corruption agencies," he added.

"Even if I have to go through a lie-detector or narco test, I am up for it. I will cooperate with the agencies if they approach me."

Mohammad said he was shocked to know his name was associated with a woman whom he had never met or heard of. "I have never been to Pakistan," he said.

Shami had been booked under various non-bailable, including an attempt to murder, and bailable sections after his wife lodged a complaint of domestic violence and infidelity against him.

Earlier, Pakistani woman Alishba admitted meeting Shami in Dubai but refuted any monetary dealings with the India pacer as claimed by his wife.

"I am one of his followers, which is how I became Shami's friend. Just like he has lakhs of followers, I am one among those normal fans. I have sent him messages," Alishba had said.

She has also denied knowing Mohammad bhai or entering a Dubai hotel -- as alleged by Hasin -- with Shami.