More time given to probe Mann video, AAP calls it 'witch-hunt'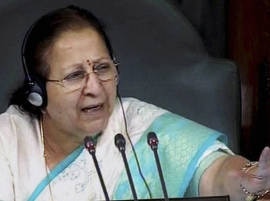 New Delhi: Speaker Sumitra Mahajan on Wednesday gave a Lok Sabha panel two more weeks to probe a controversial video filmed by AAP MP Bhagwant Singh Mann. The AAP dubbed it an "unprecedented witch-hunt".

Mahajan also told the Lok Sabha that Mann, a confidant of Delhi Chief Minister Arvind Kejriwal, had been told not to attend the house until the committee took a decision on him.

The extension given to the nine-member committee follows a request from its head, BJP's Kirit Somaiya. "In view of the seriousness of the matter, Mann is asked not to attend the house till a decision is taken," Mahajan said.

The Aam Aadmi Party said the Bharatiya Janata Party in particular had gone on a witch-hunt against Mann for alleged breach of Parliament security.

"All the MPs of the ruling coalition are trying to corner Mann. This is an unprecedented witch-hunt against our MP," AAP leader Ashish Khetan told the media.

"Is Mann a criminal? Is he a terrorist? Has he done such a big crime that the probe committee needs two more weeks to investigate the issue?" Khetan asked.

Khetan pointed out that Mann, elected to the Lok Sabha from Sangrur in Punjab, had apologized in Parliament for filming a part of the house after scores of MPs denounced the video he posted on Facebook.

"The matter should have ended there," the AAP leader added.

Khetan said the BJP was trying to suppress Mann's voice because he raised important issues in Parliament.

"It is shameful that there is no discussion on atrocities on Dalits, on corruption, on price rice... All the attention is diverted to our MP," the AAP leader added.

Meanwhile, the panel probing Mann's video said there were contradictions in the MP's stand on the issue.

"(We) gave four opportunities to Mann to explain his stand. But there are contradictions. We are certainly taking a serious view of it," Somaiya told reporters.

"We also want to consult experts to suggest steps so that such incidents do not occur in the future," he added.

The committee was to submit its report on August 3.

Asked what action can be taken against Mann, Somaiya said the panel will now "start the exercise of what could be done". He hoped the report may be submitted by August 12, the last day of Parliament's monsoon session.

According to the report, Mann remained defiant when he appeared before the MPs and insisted he did not breach Parliament's security.

Informed sources said while no decision had been taken by the probe panel, there was unanimity that Mann was politicising the issue by dragging Prime Minister Narendra Modi into the controversy.

Mann contends that if he can be accused of violating Parliament's security by taking a video, Modi should face a similar probe for inviting Pakistani intelligence agency ISI into the IAF base at Pathankot after it came under terror attack.

The panel has also taken cognisance of the letter written by three Lok Sabha members - Mahesh Girri of BJP, Prem Singh Chandumajra of Akali Dal and suspended AAP lawmaker Harinder Singh Khalsa - demanding that Mann be sent to a rehabilitation centre for de-addiction.