Mr. Raj Thackeray, stop bullying Bollywood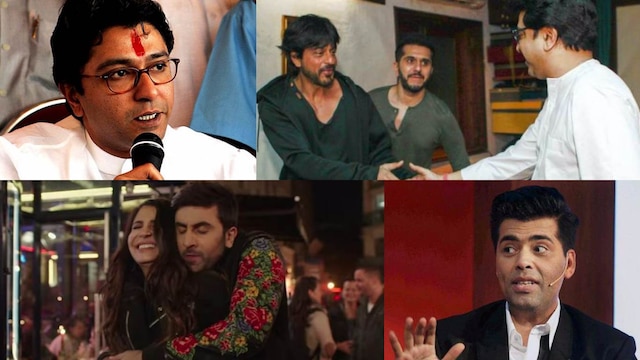 Hello Mr. Raj!
For years, we have been reading the newspaper and every now and then, these are the kind of headlines we see making front pages.


Maharashtra Navnirman Sena supremo Raj Thackeray slammed his good friend and Bollywood superstar Salman Khan over his remarks that "Pakistani artists are not terrorists" and they should be allowed to work in India because they have a valid visa and work permit.




MNS has staged high-voltage protests against the release of filmmaker Karan Johar's "Ae Dil Hai Mushkil" for featuring Pakistani actor Fawad Khan.




Bollywood superstar Shah Rukh Khan today met Raj Thackeray at his residence and assured the MNS chief that Mahira Khan, being a Pakistani actress, won't promote the upcoming movie "Raees".




"These artistes should realise 'Nation first'. If they have so much problem, we will ban their movies too" Thackeray said at a press conference.




We are sorry, Mr. Raj. But you don't sound like a politician here. You sound like a 'gunda'. We cannot accept that 'goondaism' is the way forward to forging a robust Maharashtrian identity. By vandalizing a shop or stoning a taxi, what kind of mindless chauvinism are you promoting?




When you started your party a few years ago, it had been pitched as a party committed to a "modern" Maharashtra. Does that vision still stand? If yes, then why haven't you be seen taking that forward in real terms? Rural projects in Maharashtra may not make the front pages but they will surely have a far greater value for securing Maharashtra's future.




In the larger interest of the sentiments of the people and the soldiers and the entire country, actors from across the border were banned in future.




So, why Mr. Raj? Why is it that you still continue to make news for vandalism and gundagardi? Why is it that you have started spreading terror among your own people to teach Pakistan a lesson?




We have heard that you are extremely knowledgeable about art and cinema and you understand, maybe even better than the other politicians, the amount of time and effort that goes into making a film.




In that case, you must surely be aware of the toil that a filmmaker goes through. The sweat and the blood that an actor gives to a film that he knows maybe derailed because of terrorism, its after effects or because of him being a Pakistani.




You refused to let Mahira Khan promote Raees. Did you ever speak with Mahira? Do you know her? Have you ever even tried to know her take on terrorim? What if even she thinks that the roots of terrorism lay in the neighboring country? What if even she is not okay with her country spreading terror in the world?




And how does casting Fawad Khan in an extended cameo in Ae Dil Hai Mushkil make Karan Johar an anti-national? After all, Karan Johar is no ordinary director. He is a man who has been bringing laurels to the country for countless number of years.




Your near and dear friend, Salman Khan said that Pakistani artists are not  terrorists. Why did you slam him for his statement, sir? For defending Pakistani artists? Salman Khan only stated a fact that you, unfortunately are not willing to accept. And what about laws? Working with a valid visa sounds legit, doesn't it? Then what's the problem?




Let aside the actors. What about us, Raj? What about common people who like Fawad Khan? Are you going to send them all to Pakistan? Is this is what people should be prepared to see coming?




You in one of your interviews said "Jawans are fighting for us at borders. What'll happen if they decide to put down their weapons? Who'll guard the borders? Salman Khan?"




What is that even supposed to mean? Do you think our jawans care about who is a Hindu or a Muslim or a Sikh or a Pakistani? Sir, our jawans aren't taking those bullets to save Indians. Everyday tens of our soldiers lose lives to save humanity. They are guarding the borders against those who are a threat to innocent people's lives. Not from Fawad Khan or any other Pakistani actor for that matter. We are sure our soldiers won't shoot Fawad on the spot if he ever ventured into our borders.




Our point is that in a country like India, that has seen protests in the favour of Yakub Memon, you can always keep your point. Deliver speeches. Pen down your opinions freely. But there is no need to be a goon. We have seen your party workers threaten people. We have seen how you and your folks have retained overwhelming control over Bombay through hooliganism than development.




So, we request you to put an end to being a bully to Bollywood which unfortunately thrives in the city where your goondaism functions.




Does this even make you happy? This fake machismo? Do you think you come across as a patriot through this behavior? Making icons like Shah Rukh Khan and Salman Khan (the one you apparently share a warm relationship with) bow down to you? Is that what you wanted? Humiliating your own people? Don't you think this is exactly what Pakistan would want?




We may not have said it at the onset but we want you to know Raj that we understand your feelings. Pakistan has been taking undue advantage of our silence for ages. It is high time we gave it back harder to them. We won't let our soldiers die for nothing. We won't let our army men die at all. Like our honorable defence minister said, our jawans have to come back as winners and not martyrs.




But Raj, such gundagardi in Bollywood is not the solution to that. Insulting your own friends won't send out any message to Pakistan.




We have to give an answer to Pakistan, sir and we will. But in our language. Let's not blur the lines of humanity between us and those across the line of control. Be an Indian.


Jai Hind! Jai Maharashtra!