SP crisis LIVE: Scuffle breaks out as Shivpal snatches mic from Akhilesh, new low in party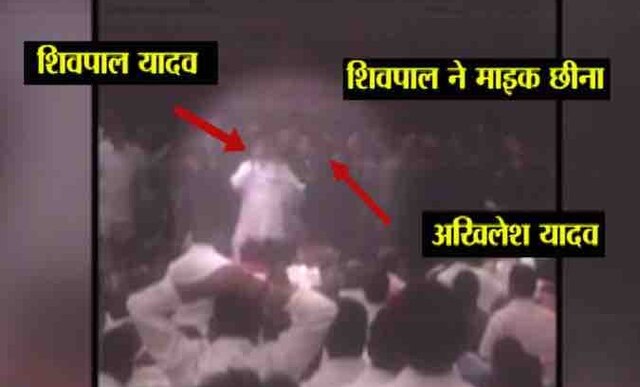 New Delhi: The family rift among Yadavs, has hovered over the Samajwadi party months ahead of Uttar Pradesh Assembly elections.  The matter which got sparked off months ago, took momentum after supremo Mulayam Singh and son Akhilesh Yadav sacked each other's loyalists Shivpal Yadav and Ramgopal Yadav.
Live Updates:


UP CM had called me to seek support in a matter which we both knew, this was misunderstood by others: Ashu Malik


Just in: Shivpal Yadav expels 10 pro-Akhilesh youth leaders from party.


I was slapped by minister Pawan Pandey at CM's residence, SP MLC Ashu Malik tells ABP News


Party supremo Mulayam Singh Yadav today publicly pulled up his son and Chief Minister Akhilesh Yadav at a meeting which ended on a fiery note with sacked minister Shivpal Yadav calling Akhilesh a "liar".
The Shivpal and Akhilesh factions within the once united party came to blows ahead of the meeting called by Mulayam Singh, who made it clear that he would never let go either his brother Shivpal Yadav or long-time aide Amar Singh, who the Chief Minister intensely dislikes.
Here's a brief of what happened inside the meeting:


Akhilesh Yadav, who had only been seen fuming ever since the rift erupted, broke down in the meeting and pacified father Mulayam, by making it clear that "there is no chance that he would form a new party"




Thereafter, Akhilesh also offered to step down as a Chief Minister of Uttar Pradesh saying "let Mulayam appoint a CM who he thinks is honest"




After Akhilesh, it was Shivpal Yadav's turn to break the ice. Sacked Shivpal took a jibe at CM, while counting his contributions in the party since its very inception




Shivpal also favoured Amar Singh and said "It was only because of Amar Singh that the party could be saved in 2003". Later, he urged Mulayam to take over as CM of UP, saying "It's time Netaji takes over the seat"




After Akhilesh and Shivpal were done takes snipes, Mulayam took the dice and took direct jibes at trouble mongers. Mulayam said, "Few leaders are only good at 'polishing apples' for others




Mulayam: Feel really sorry for the rift in my Samajwadi family. I have struggled a lot for the party and have a very reputed family




Mulayam, who is the back bone of the party, thereafter sent across a strong message and said "I am not weak as yet"




Mulayam felt sorry for the current state of the party and said that "Instead of fighting our weaknesses, we are fighting among ourselves"




Mulayam also declined Akhilesh's demand of sacking Amar Singh and his supporters from the party and spoke in favour of Shivpal and him, saying "I will keep standing by both Shivpal and Amar"




After Mulayam ended his speech, a scuffle broke out between Akhilesh and Shivpal, after Shivpal snatched the mic from Akhilesh while he was accusing Amar Singh of making statements against him


Since Mulayam has declared his stand, all eyes now lay on what will be son Akhilesh's next step.
FULL SPEECH: Akhilesh Yadav
FULL SPEECH: Shivpal Yadav
FULL SPEECH: Mulayam Singh Yadav