Mumbai building collapse: Is this first incident of its kind? No
In 2013, also two buildings collapsed in Mumbai, Maharashtra leaving behind scores dead.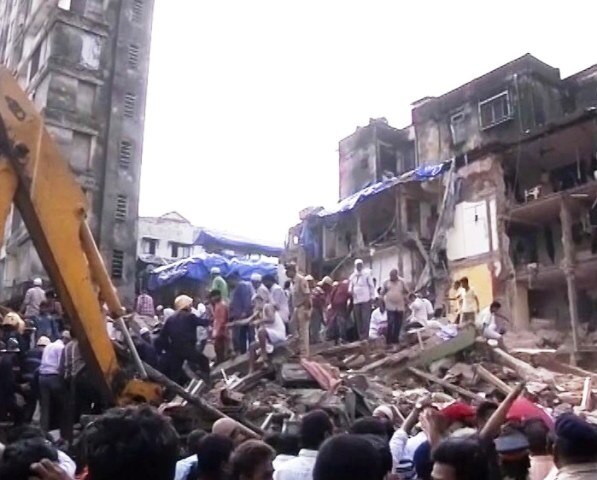 New Delhi:
After a heavy downpour in Mumbai, a three-story residential building collapsed in Bhendi Bazaar area of south Mumbai on Thursday resulting into death of 10 persons and injuring 15 others.
Around 30 people are feared trapped.
Located at Pakmodia street near JJ Hospital, the building had 12 rooms and six godowns on the ground floor. It crumbled at around 8:30 in the morning.
"Our disaster management cell received a call at 8.40 am about the collapse. We immediately rushed fire brigade personnel to the site to rescue the trapped people. We fear that several people are trapped under the debris," a senior official of Municipal Corporation of Greater Mumbai (MCGM) said, reported news agency PTI.

"It was over a century old and dilapidated like many of the buildings in the locality. But it is not clear whether it is included on the list of dangerous buildings," South Mumbai BJP corporator Atul Shah said, reported news agency IANS.
Interestingly, in 2011 itself, building was declared unsafe for living.
With the help of fire brigade personnel, a 45-member team of the National Disaster Response Force (NDRF) is carrying out the rescue operation.
The incident occurred two days after the city faced torrential rains, which seems to have caused damage to the building.
Not the first incident of its type in Mumbai:
On 27 September 2013, a five-story building collapsed in the Mazagaon area of Mumbai city in Maharashtra and at least 61 people died and 32 others were injured in the disaster.
The building collapsed at 6 a.m. It had more than 100 residents and cops said that the collapse occurred after a mezzanine floor was built without permission in an office-warehouse on the ground floor of the building.
The building was 32-year-old and was, reportedly, owned by the Brihanmumbai Municipal Corporation (BMC).
As per reports, three officials in its civic markets department were arrested for not acting on reports that the building was weak after the renovation works.
In yet another incident in Thane on 4 April, a building collapsed and 74 people, reportedly, died (including 18 children and 23 women). An additional 60 people wounded.