Mumbai bridge collapse: Local train services hit, 5 hurt; Railway minister orders probe
Western Railway PRO said that the bridge which not comes under railway administration. While the BMC administration claims that the bridge is the responsibility of Railways.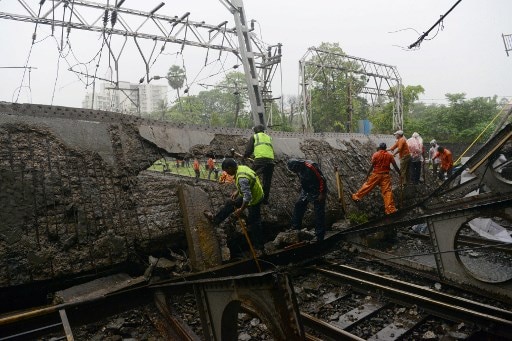 Mumbai
: Part of a bridge collapsed on tracks near Andheri Station towards Vile Parle on South end in Mumbai on Tuesday morning. Five people were injured in the incident, which brought local services of the Western Railway to a halt and affecting some long distance trains.
Railway Minister Piyush Goyal has ordered an inquiry into the incident and directed officials to expedite the repair and traffic restoration work.

"Part of Road Over Bridge has fallen on tracks near Andheri Station impacting rail traffic. Directed officials to speed up repair work and rapidly restore traffic in close coordination with other departments. I have also ordered an enquiry by Commissioner of Rail Safety," the minister tweeted.




As per reports, four fire brigade vehicles and National Disaster Response Force (NDRF) team were rushed to the spot and Virar local service and all western local lines have been stopped.

Harbour lines started its operation and the first train left Andheri.  The part of a bridge of East-West Railway Bridge fell at around 7:30 in the morning.

NDRF team was able to successfully rescue two people from debris.




Due to the accident, the traffic of Western Railway is held up on all lines between Goregaon & Bandra stations, while local trains are running beyond Goregaon & between Bandra & Churchgate. On Central Railway stations, crowd management machinery has strengthened.


As a result of incessant rain, the central railway lines have also been affected and trains are running with a delay of 30 minutes. The Railway tracks at Sion Railway Station have submerged under water following heavy rainfall.

Western Railway PRO says that the collapsed bridge is not a foot over bridge but a roadover bridge which not comes under railway administration. While the BMC administration claims that the bridge comes under railway administration. They claim that it is the responsibility of the railway administration to take care of every bridge in the railway administration area.




Part of Gokhale Bridge, connecting Andheri East to West has collapsed affecting the overhead wires too.Trains on the western line are affected.BMC,Fire Brigade as well as RPF Staff & Officers are deputed on spot for support.Traffic above & below the bridge is stopped for now pic.twitter.com/LMcKmwyDCh


— Mumbai Police (@MumbaiPolice) July 3, 2018



Mumbai Fire Brigade said ''It's part of Gokhale bridge that connects Andheri east & Andheri west. We are at the spot & trying to check with the locals if someone is missing as they might be trapped under the debris." Railway minister Piyush Goyal said that an enquiry by Commissioner of Rail Safety have been ordered.

Over Head Equipment (OHE) have been damaged in the accident and five people have sustained injuries. Some people are still suspected to be trapped under debris.

Here are the Western Railway Helpline numbers in view of affected traffic in Mumbai-



Andheri - 022676 30054


Churchgate - 02267622540


Borivali- 02267634053


Mumbai Central- 02267644257



Search and rescue operation is in progress at the location.