Nagaland CM Liezietsu rejects Governor's directive to go on floor test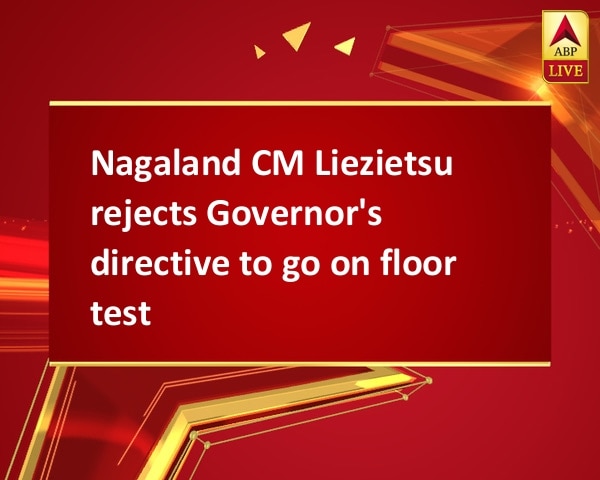 By:

ANI
Updated:
15 Jul 2017 07:00 PM
Kohima (Nagaland) [India], July 15 (ANI): Amid the ongoing political crisis in Nagaland with former chief minister T.R. Zeliang's claiming the Government, Chief Minister Shurhozelie Liezietsu on Saturday rejected Governor Padmanabha Balkrishna Acharya directive to go seek trust votes, saying the government is going strong and there is no point to go on floor test.
"Politics is a numbers' game, I know that I have less numbers, but I am holding the fort. If no confidence motion is tabled against me, there is no point going to the floor. This is my strength and I will continue with this. I have all the party with me and the government is going strong," Liezietsu told ANI.
Referring to the situation of Nagaland as 'shameful,' Liezietsu said he is running the state normally and that his party stands united with him.
"Many of our friends have gone away, they are the prodigal sons. We are still holding the fort here. They have run away from home, parents. They are staying in Assam and can't claim government from there. If they really want to discuss the problems, they should come and discuss with me. From a distance, if they claim the government, we will not agree to it," he said.
Liezietsu's statement comes after the Kohima bench of the Guwahati High Court, earlier in the day, stayed the Nagaland Governor's directive to the chief minister to seek a trust vote in the Assembly on or before July 15.
The bench stayed the order on a plea by Liezietsu, where he stated that the Governor's directive was ex-facie unconstitutional, illegal, arbitrary and violative of the basic features of the Constitution.
Earlier, Governor Acharya stated that he was prima facie convinced that Zeliang enjoys majority support.
The press release issued by the Raj Bhavan stated that Liezietsu did not disprove Zeliang's claim that he enjoyed the support of 44 MLAs in a House with a total strength of 59.
Zeliang, in his letter, also mentioned that the MLAs have urged the incumbent Chief Minister Shurhozelie Liezietsu, who is a non-MLA, to resign and pave way for him to take over as the Chief Minister.
Liezietsu became the Chief Minister on February 22 this year, following the resignation of Zeliang after the violent protest by tribal groups, who opposed his bid to hold civic polls with 33 percent reservation for women. (ANI)
This story has not been edited. It has been published as provided by ANI