PM Narendra Modi pays homage to Indian-American astronaut Kalpana Chawala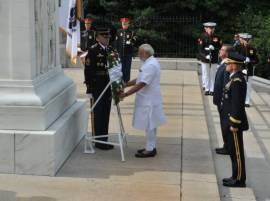 By:

PTI
Updated:
07 Jun 2016 02:06 AM
WASHINGTON: Prime Minister Narendra Modi today laid a wreath at the Tomb of Unknown Soldiers and paid homage to Indian-American astronaut late Kalpana Chawla at Arlington National Cemetery.

"Honouring sacrifice, saluting valour. Formal engagements begin with a solemn ceremony," External Affairs Ministry spokesperson Vikas Swarup tweeted.

"In homage to heroism and indomitable courage," Swarup said in another tweet.

He also had a brief interaction with the husband and family members of Chawla, senior officials from NASA, Indian-American astronaut Sunita Williams and her father at Space Shuttle Columbia Memorial.

US Defense Secretary Ashton Carter accompanied the Prime Minister. Indian Ambassador to the US Arun K Singh, Foreign Secretary S Jaishankar, US Ambassador to India Richard Verma and Assistant Secretary of State for South and Central Asia Nisha Desai Biswal were also present on the occasion.

"All of us are very honored that he took time to come and acknowledge the shuttle catastrophe and the deep cooperation that we have with India in the space world," Williams said after her brief interaction with Modi.

"Personally it is commemorating my friend (Kalpana Chawala)," Williams said.

Modi spoke to Sunita's father in Gujarati and invited them to visit India.

"With health permitting, I definitely look forward to visiting India," her father said.

"The Prime Minister said come to India. Please come and visit," she said.

Chawla's husband Jean-Pierre Harrison presented a set of books on the late astronaut, including a biography written by him, to the Prime Minister.

The Tomb of the Unknowns is a monument dedicated to American service members who have died without their remains being identified.