PM Modi writes to Nawaz Sharif on Pakistan Day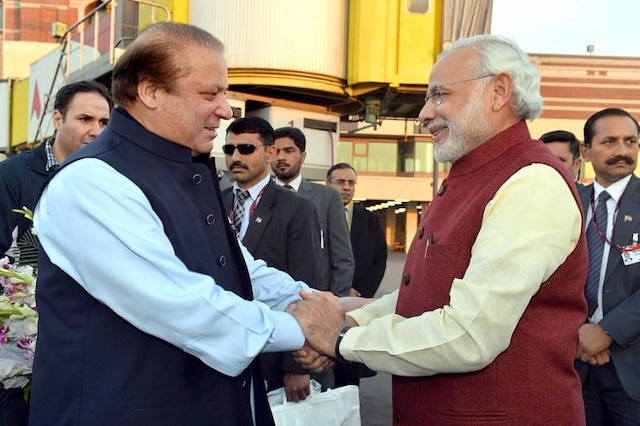 NEW DELHI: Prime Minister Narendra Modi on Thursday wrote a letter to his Pakistan counterpart Nawaz Sharif, greeting him on Pakistan's National Day and calling for strengthening relationship between the two countries.
"The priority of Indian government is to strengthen relationship with its neighbours, including Pakistan, in an environment free from terrorism and violence," Modi wrote in his message.
Meanwhile, Union Minister of State for External Affairs M J Akbar today represented the government at the Pakistan Day celebration in Delhi, which was also attended by a host of other dignitaries and political leaders.
The programme was organised at the Pakistan Embassy where High Commissioner Abdul Basit received guests for the last time as the envoy as his term ends soon. Photo: ABP News
Addressing the gathering at the decked up lush lawn, Basit asserted Pakistan was "surging ahead" on the path of growth and peace.
"We may not be the richest country in the world but according to a recent report we are the happiest one in the region. And, that itself is a testimony to the resilience of our people," he said.
"We also wish peace and progress for other countries as for ourself and hope that whatever bottlenecks we have in taking our collective growth forward, would be eliminated in future," Basit said.
The Pakistan envoy and his wife also hosted a lavish dinner for the guests, which was attended by ambassador of various countries and senior Congress leader Mani Shankar Aiyar.
The event was also attended by Hurriyat leader Abdul Ghani Bhat and a few other Hurriyat leaders.
A short video clip charting the growth of Pakistan was also screened on the occasion.
Basit also said Islamabad wants a good and peaceful relationship with New Delhi and resolve all issues.
"As far as the Jammu and Kashmir issue is concerned, it should be resolved as per the aspirations of Kashmiris and hopefully it will be.
"We hope that we will resolve the issue but as per the aspirations of Kashmiris ('unki umangon ke mutabik ho')," he said.
(With inputs from PTI)