Tough action against those helping hide black money, PM Modi tells CAs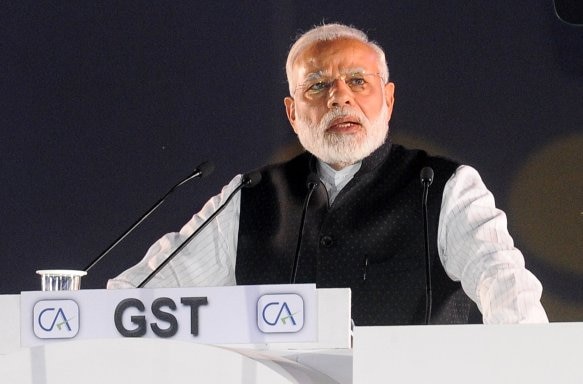 NEW DELHI:  Prime Minister Narendra Modi on Saturday called chartered accountants a "big pillar" of the Indian economy and urged them to bring technological innovations to meet global standards.
Addressing chartered accountants on the foundation day of the ICAI (Institute of Chartered Accountants in India), Modi also said CAs should take a pledge to bring people in the tax bracket rather than boasting about the number of clients they have saved from paying taxes.
Highlights of PM Modi's speech:


Your signature is more powerful than PM's and government also believes the accounts signed by you: PM Narendra Modi to CAs


We will always remember how the community of professionals took a lead during the freedom struggle of India. Like the lawyers did during the freedom struggle, I urge the CAs to take the lead in the journey towards India's economic growth.


PM asks CAs why action has been taken against only 25 of them for irregularities, while over 1,400 cases are pending for many years


It's a bitter truth that only 32 lakh Indians have declared over Rs 10 lakh income, despite crores being in high-end professions


Govt committed to more tough action against firms helping in hiding black money; we are not concerned about political implications


Govt has cancelled registration of over 1 lakh companies and more than 37,000 shell firms have been identified for strong action


Post-demonetisation, data mining shows that over 3 lakh registered companies indulged in suspected dealings


If you know anyone with black money, warn them that they would not be spared: PM Narendra Modi to CAs.




People with black money will face more difficulties when Switzerland begins automatic information exchange with India in 2 yrs


Impact of our steps to check black money is clear from latest figures of Swiss banks, where Indians' money has dipped to record low


Just like doctors don't want people to be ill to get more business, chartered accountants too need to safeguard society's economic health


Those who have looted the poor will have to give back what they have looted


Over one lakh companies came under scanner post demonetisation drive


On one hand, there is a Swachh Bharat Abhiyaan and there is a movement to clean the nation from the menace of corruption


Our Government has taken a tough stand against those who have looted the nation


A country where a select few loot, such a nation cannot scale new heights. These select few never want the nation to grow


GST a new beginning, a new path for our economy


The CA community looks after the economic health of society.


GST implementation dawn of a new era in India


"I am hopeful the new course will boost the financial skills of people joining this profession. We need to develop a dynamic system in our institutions and human resources to meet the global benchmarks and requirements," PM said after launching a new CA course at the event.