National Herald case LIVE: We will keep fighting for the poor, not move back an inch: Rahul Gandhi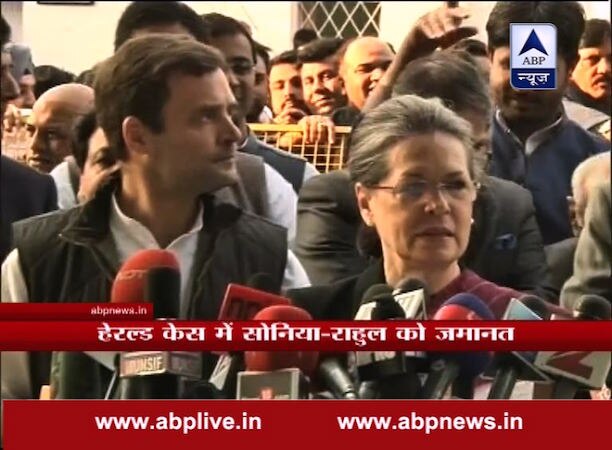 New Delhi:
The Congress Party on Saturday said that path of truth is always the correct path and the grand old party along with its leaders (Sonia Gandhi and Rahul Gandhi) has always walked the path of truth. It said that the truth will prevail in the ongoing National Herald case also.


We will give a determined fight because we stand for certain ideals: Dr Manmohan Singh


PM Modi wants 'Congress Mukt Bharat', it will never happen: Rahul Gandhi


We will keep fighting for the poor and as an opposition party,not move back an inch: Rahul Gandhi


I respect law, PM Modi makes false allegations and he thinks the opposition will bend: Rahul Gandhi


The truth will come forward: Sonia Gandhi


I have never spoken to the PM on this matter: Subramanian Swamy


This is an open and shut case: Subramanian Swamy


I will win this case in 2016, Sonia and Rahul Gandhi will be sent to jail: Subramanian Swamy


When Gandhis came they were made to stand in a corner where the accused are supposed to be,were not allowed to sit: Subramanian Swamy


Next date of hearing is February 20: Kapil Sibal


Rs 50,000 surety bond each furnished on Sonia and Rahul Gandhi's behalf


Subramanian Swamy opposed bail to Sonia and Rahul, argues they can escape abroad


 Sonia Gandhi and Rahul Gandhi have got bail in the case


Kapil Sibal arguing for Sonia Gandhi





Rahul and Sonia reach Patiala House court



Rahul and Sonia Gandhi leaves for court


Priyanka Gandhi Vadra will furnish surety bond for Sonia Gandhi


Kharge says Congress stages walkout in Parliament on only very important issues unlike BJP


BJP playing politics in the matter, says Mallikaarjun Kharge


Narendra Modi government targeting Opposition: Ghulam Nabi Azad


Swamy got z plus security, bungalow without holding any office : Ghulam Nabi Azad


Swamy rewarded for targeting Congress, says Azad
BJP govt, PM Narendra Modi behind this
Congress conducts press-conference ahead of hearing


Expressing confidence in the judicial system, the Congress Party on Saturday said it would exercise its right to bail and exemption after taking legal advice in accordance with the law in connection with the National Herald case.


Congress supporters burn PM Narendra Modi's effigy in Bhopal


Robert Vadra has come out in support, says truth will come out


Priyanka Gandhi Vadra may accompany Rahul and Sonia to court


Sonia Gandhi to conduct meeting at the residence of party leader Ghulam Nabi Azad ahead of hearing. Rahul Gandhi will also be present at the meeting.


Rahul Gandhi leaves home.


Supporters of the Congress party have gathered in large numbers outside the All India Congress Committee (AICC) displaying their solidarity with party president Sonia Gandhi and vice president Rahul Gandhi in view of the hearing of the National Herald case today


The supporters also gathered near the Teen Murti in the national capital.


The court hearing for the National Herald case begins at 3:00 pm


"The Congress Party and the Congress leadership is ready to take on the political malicious vendetta unleashed by the Modi Government and the Bharatiya Janata Party through the agency of Subramanian Swamy," Congress leader Randeep Singh Surjewala told ANI.


"The political vendetta led by Narendra Modi and Subramanian Swamy is only a small cog in this wheel of conspiracy," he added.


Surjewala also said that the Congress Party won't bow down in front of the political vendetta of Prime Minister Modi, Subramanian Swamy or the BJP.


"We will continue to champion the voice of the people in this country. We will continue to expose the misdeeds of the Modi Government. We have complete faith in the judicial system," he said.
"We will fight this legal battle in accordance with law and we will fight the political battle both inside Parliament and outside it," he further added.
The Gandhis are two among six people - including other top Congress leaders and Gandhi family associates - accused by BJP leader Subramanian Swamy of trying to illegally acquire real estate worth thousands of crores belonging to the now defunct newspaper National Herald.
Meanwhile, security has been beefed up in the Patiala House court in connection with the National Herald case.
According to party sources, the Congress is open to avail all legal remedies and options. Sonia and Rahul were summoned by the Court after a criminal complaint by Bharatiya Janata Party leader Subramanian Swamy for alleged cheating and misappropriation of funds by them in acquiring ownership of now-defunct daily National Herald.
The National Herald newspaper was closely associated with India's freedom struggle and the Indian National Congress till 2008. In January 2008, discussions about its closure began. On 1 April 2008, the paper's editorial announced that it was temporarily suspending operations. Before its closure, the paper was being run by Associated Journals Limited (AJL).
BJP leader Subramanian Swamy filed the case in a local court in 2012. The trial court then issued summons to the two leaders among others in June 2014, but they approached the Delhi High Court seeking a stay. On Monday this week, the high court refused to stay the summons, and asked all of the accused to appear for a hearing on December 19.
The accused face allegations that they illegally acquired property worth Rs. 5,000 crore belonging to the National Herald newspaper.