Navy anchors burning vessel at Ganges delta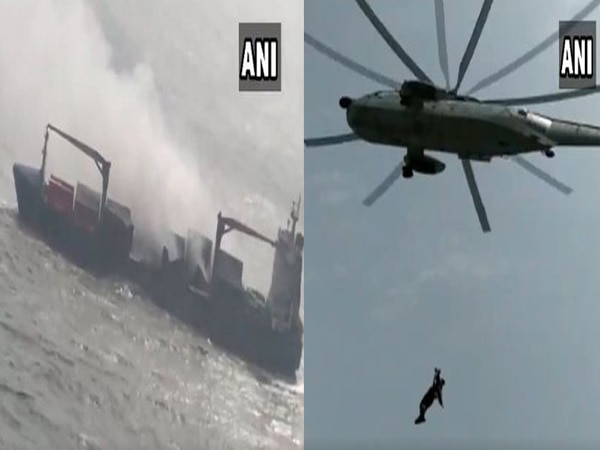 By:

ANI
Updated:
16 Jun 2018 09:20 PM
Kolkata (West Bengal) [India], June 16 (ANI): A helicopter from the Eastern Naval Command winched down a Marine Commando (MARCO) officer on merchant vessel SSL KOLKATA which was on fire since June 14.
The team managed to drop the anchor from the ship to prevent it from drifting off the Sagar Island at the mouth of the Ganges delta.
The vessel has been abandoned by the 22-member crew.
The Marine Commando Officer ascertained the conditions in the forward part of the ship and later called in the helicopter to lower onboard three crew members of the ship
A Seaking 42C helicopter and a Dornier aircraft were dispatched from Visakhapatnam after Vice Admiral Karambir Singh, Flag Officer Commanding-in-Chief Eastern Naval Command directed that the ship had to be stopped at all costs from drifting toward the Sundarbans delta, as failing to do so would cause a severe ecological disaster.
The Naval Officer-in-charge West Bengal liaised with the officials from Directorate General of Shipping, Indian Coast Guard (ICG), Kolkata Port Trust (KOPT), the ship owners, Agents and Salvage specialists at Kolkata. The officer-in-charge kept them informed of the plans.
On a related note, the Indian Navy's INS Kadmat reached the site earlier this morning to augment on-site support to the ICG ships. (ANI)
This story has not been edited. It has been published as provided by ANI