Need to make situation in Jammu and Kashmir normal: Army chief Bipin Rawat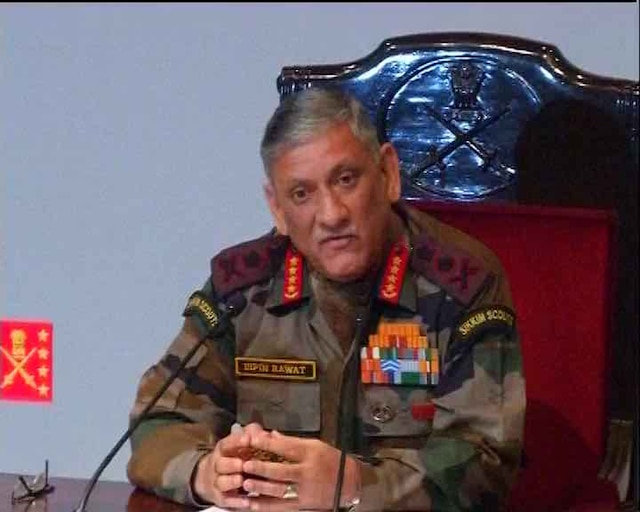 New Delhi: Army chief General Bipin Rawat on Friday said the situation in Jammu and Kashmir should return to normalcy as it was before the advent of militancy.

Addressing a press conference ahead of Army Day, Rawat said 'indoctrination' of the youth was taking place in the state, and emphasised on the need to identify the "centre of gravity".

"What happened in 1989, the secular credentials were on target... We have to make sure Jammu and Kashmir revives back to what it was," the Army Chief said.

He said "indoctrination" was taking place.

"How is the educated youth taken up the gun? Some indoctrination is taking place," he said.

Rawat also said that the proxy war that was going on was affecting the "secular fabric" of the country.

"We are a secular nation," he said adding that we need to deny space to people who are trying to disrupt harmony.

"While we have challenges along our borders, we've to be concerned about the proxy war, terror that are affecting secular fabric of our nation." Rawat said.

He said the state has witnessed violence in last few months but the situation has been brought under control by the security forces in combined effort.

"In the last couple of months, Jammu and Kashmir has witnessed come violence. Security forces, all of them are working together have been able to bring the situation in control. We need to ensure situation is not allowed to escalate," he said.

"We need to make the people understand that government efforts are to bring peace and harmony".

Rawat said school and colleges must function, and so should tourism flourish in the state.

"Why don't we allow it to become the heaven on earth that it is. So that people can visit and see the beauty that is there. For this, the security forces have to maintain round the clock vigil," he said.

He added that the army is ready to go "beyond its mandate" and is "willing to walk the extra mile" for this.

Rawat said earlier, when the centre of insurgency used to be in villages, population was considered the centre of gravity, but in an urban set up, with larger demography, it becomes difficult to identify the centre of gravity.

"We need to identify the centre of gravity," he said.

Stating that proxy war, terror and left wing extremism will keep the country "embroiled" for many years to come, he said it is important to provide soldiers weapons that give maximum lethality. For this the Army Chief said modernisation is required in the coming years.

"The emphasis is on ensuring we get weapon systems with better range, accuracy and lethality," he said.