Netflix trolls UIDAI's Aadhaar in teaser, Here are the best Twitter reactions
The clip is based on the plot of the Black Mirror season 4 episode Hang the DJ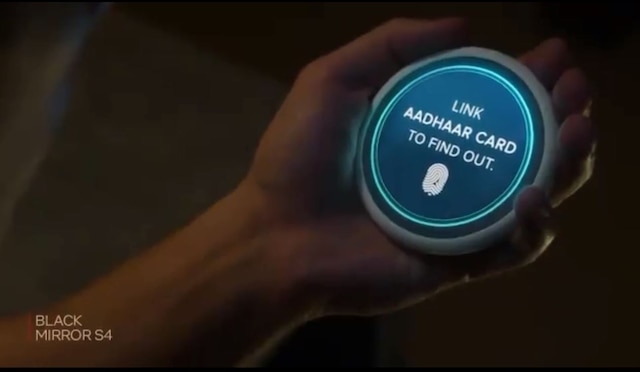 NEW DELHI:
In a 19-second video uploaded on Twitter by Netflix India, the online streaming service Netflix took a jibe on India's biometric identification system Aadhaar.



Please provide #Aadhaar details for more information. pic.twitter.com/siuuLr1I06


— Netflix India (@NetflixIndia) January 4, 2018
The clip is based on the plot of the Black Mirror season 4 episode Hang the DJ. When the character asks the device the expiry date the device shows the message: "Link Aadhaar card to find out".
IMAGE: TWITTER @NetflixIndia
The tweet was retweeted more than 3,250 times.
Black Mirror a British science fiction anthology, set in alternative realities similar to present day society. It shows the impact of technology on humanity.
Here are the best Twitter reactions -

pic.twitter.com/QodTKk2N3P

— José Covaco (@HoeZaay) January 4, 2018




Admin of this handle needs a raise ????


— Roshan Rai (@RoshanKrRai) January 4, 2018

you know you got it wrong when even Netflix is hustling you @UIDAI

— rishabh (@soul_LFC) January 4, 2018




Modi Sarkar only watches NETAflix. #Aadhaar #AadhaarFail


— Ishan (@ishaanratnam) January 4, 2018

Modi Sarkar only watches NETAflix. #Aadhaar #AadhaarFail

— Ishan (@ishaanratnam) January 4, 2018




1000 ₹ is all you need to get anyone's aadhar https://t.co/RZkgLsf1DR don't be a kanjoos spend some bucks bro


— kunal puri (@kunalpurirocks) January 5, 2018

pic.twitter.com/HLw6Oe76l7

— Saifoddin (@qsaifoddin) January 5, 2018




You did it, didn't you?
Oh wait, if you go through with this, anyone can find out about your relationships for Rs 500 and print them out for Rs 300 more(wink, wink @UIDAI)


— Ankan Das (@RektAlter) January 5, 2018