News channels have taken money from Congress: General Singh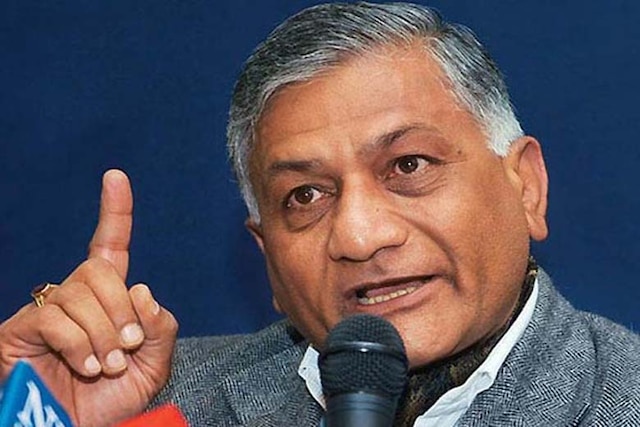 New Delhi: General VK Singh has yet again made a controversial comment against media. He has said that some news channels have accepted money from the Congress party to concoct a story against him to malign Modi government.
" Money has been given to concoct a story. They have joined different sentences together to piece their story. And Congress leaders commented on it. This shows money has been given to them," he told Dainik Bhaskar.
On the question that whether he had a word with PM Modi or Home Minister Rajnath Singh, he said as he didn't make any controversial comment, nobody had a word with him regarding this.
Union Home Minister Rajnath Singh on Thursday asked his Cabinet colleagues to make their statements with great caution since the defence of 'being misquoted' was not appropriate.
"Both VK Singh and Rijiju have given their clarifications over their respective statements, but I think that all of us should remember that we are workers of the ruling party and we have a certain responsibility to the people. Which is why we need to be careful and aware before making a statement," Rajnath told ANI.
The Home Minister asserted that one could not escape by saying that they had been misquoted and needed to ensure that what they were saying was accurate.
"We must not forget that we are in the government and the people have lot of expectations from us. In order to ensure that their statements are not taken out of context, great restrain must be exercised while saying something," Rajnath added.
Rajnath's message of caution comes in the wake of the controversial statements made by Union Ministers VK Singh and Kiren Rijiju.
VK Singh faced flak for his reaction on the Ballabhgarh Dalit killings that 'the Centre was blamed even if a dog was stoned' and Rijiju was criticised for backing former LG's statement that 'north Indians take pride in breaking the rules'.