NGO Talks About Grieving Boy In Delhi's Sewer Death Story And The 57 Lakh Donation
Sanitation worker Anil died on September 14 while putting netting over a sewer when suddenly he slipped into the sewer and the thin rope tied from his feet splintered.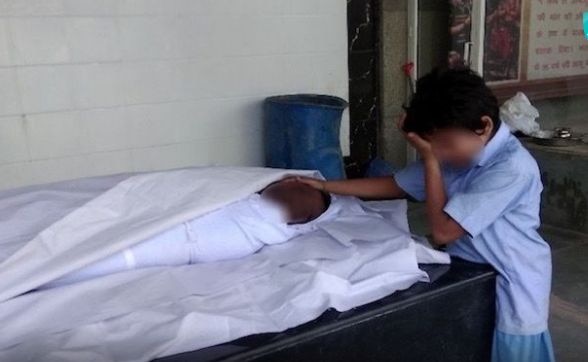 NEW DELHI: After the emergence of several facts in the story the battle over the donation of more than 57 lakh rupees has intensified. ABP News contacted the founder of non-government organisation Uday Foundation asking them if the money belongs to the mother of the boy in the viral picture?

To ABP News, the founder of Uday Foundation Rahul Verma clarified and said "we went to open an account of the 11-year-old Gaurav in UCO Bank, Aurobindo Marg, but since the child did not have a PAN Card, we applied for the same on September 19 only. This was done with an intention to sponsor the schooling of the child and to provide him with a healthier prospect. We have already registered for opening an account near Sri Aurobindo Marg."

Verma also said "No money has been transferred to Rani's account because the donated money was supposed to be distributed amongst Gaurav and his two younger sisters. All the three children would, therefore, be benefitted from the contribution till the time they gain maturity, in the form of fixed deposits."

But after the revelation of the facts wherein it was learned that Rani and Anil were never married and the boy's mother who had claimed that she was his wife was in fact in a live-in relationship, the organisers of the online crowdfunding campaign have halted the donation at more than 57 lakh rupees collected till now.

"We have opened our website for donators in case they want to withdraw their money after the exposure of the facts but none of the 3000 donators have withdrawn their money so far. Ketto will soon give details of the beneficiary" further said Verma on call.

The photograph of the weeping child got viral on the social media where he was sobbing next to Anil's body whom he addressed as "papa".




ABP news also met the boy who has no idea that Anil was, in fact, his stepfather. Gaurav did not eat food for four days ever since his father passed away and has no plans of eating food at all. "I don't want to eat, mother is forcing me to eat food. But I'll not have anything" said Gaurav on Wednesday.

Days after Anil's death his "son" mourns in pain and tells us that he wanted to meet his father for the one last time but the police immediately rushed him into the ambulance and no family member was allowed to sit with him.

Rani who sometimes work as a maid in nearby houses or picks trash told us that Anil's death is, in fact, a "conspiracy".

Rani says, "He would always remove his clothes, valuables like wallet, watch etc before he went inside the sewer but it was very odd to see that babu (Anil) had only left his shoes outside while being all dressed up inside the sewer. A thin rope was tied to his foot which was capable of holding no weight at all".

She says that Anil was working in a sewer near Dadadev hospital and when she reached there she saw a crowd gathered around the sewer. She went inside and saw Anil struggling to come out of the sewer but no one came forward for help. She wanted to jump inside in order to get him out. Later, when she took an Auto Rickshaw to reach the hospital where Anil was admitted, he was dead.