No proposal for setting food processing industries received from HP: MoS Sadhvi Niranjan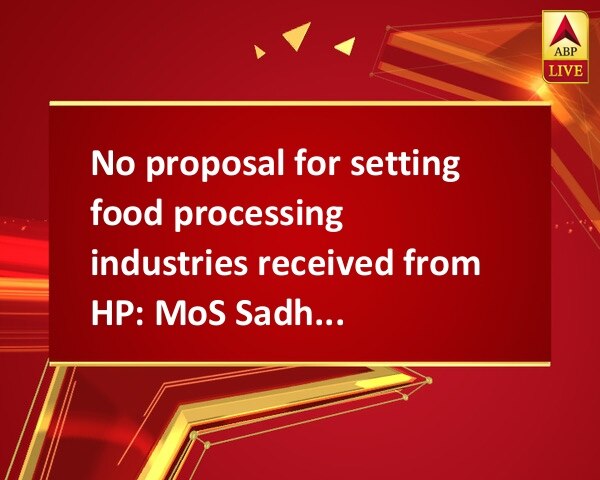 By:

ANI
Updated:
10 Aug 2017 04:30 PM
New Delhi [India], August 10 (ANI): Minister of State for Food Processing Industries Sadhvi Niranjan Jyoti informed the Lok Sabha that no proposal has been made by Himachal Pradesh for sanctioning of food processing industries under the Public Private Partnership (PPP) Mode.
The Cabinet Minister informed this in a written reply to Simla MP Virender Kashyap in the Lower House yesterday.
In her reply, Sadhvi Niranjan said that a total of Rs. 211.807 lakh has been sanctioned to the Himachal Pradesh Government for setting up food testing laboratory for Palampur's Chaudhary Sarwan Kumar Himachal Pradesh Agricultural University (CSKHPAU), out of which a sum of Rs. 84.722 lakh grant has already been released by the ministry so far.
The Union Minister also said that the Ministry does not set up Food Processing Industries on its own in any part of the country.
She highlighted that project proposals of one mega food park; 12 integrated cold chain and value addition infrastructure and one food testing laboratories has been received from Himachal Pradesh for providing the financial assistance under the schemes of the Ministry of Food Processing Industries.
She further asserted that a total of Rs. 50 crore has been approved for the ongoing project of in Una's Cremica Food Park Limited which is of Rs. 99.70 crore and till now Rs. 14.01 crore has been released by the Centre.
She informed the Parliament that Rs. 7.68 crore for Shimla Adani Agri Fresh Pvt. Ltd. of Rs. 26.31 crore, Rs. 9.75 crore for Solan's Aromatrix Flora Pvt. Ltd. of Rs. 15.65 crore, Rs. 8.05 crore for Simla's Dev bhumi cold chain of Rs. 14.25 crore and Rs. 9.67 crore for Solan's Fresh Produce Impex of Rs. 13.30 crore has been sanctioned till now.
Apart from this, Rs. 7.69 crore for Solan's Hillcrest foods of Rs. 15.61 crore, Rs. 5.44 crore for Solan's Himalayan cotton yarn Ltd of Rs. 12.30 crore, Rs. 9.10 crore for Simla's Him Fresh Produce of Rs. 16.49 crore, Rs 8.78 crore for Solan's Paonta Sahib Food Corporation of Rs. 18.27 crore, Rs. 10 crore for Solan's Pulkit Fresh and Health of Rs. 15.40 crore, Rs. 10 crore for Kullu's Deluxe Integrated Cold Chain Pvt. Limited of Rs. 40 crore and Rs. 10 crore for Una's Paras Spices of Rs 37.67 crore has been approved so far.
Sadhvi added the the ministry is implementing various Schemes for promotion and development of food processing sector in the country and added that the 'Kisan Sampada Yojana' has been approved with an outlay of Rs. 6,000 crore for the period 2016-20 coterminous with the 14th Finance Commission cycle to promote food processing in the country.(ANI)
This story has not been edited. It has been published as provided by ANI