Now ousted AAP minister Asim Khan says Kejriwal, aides asked him to pay Rs 5 crore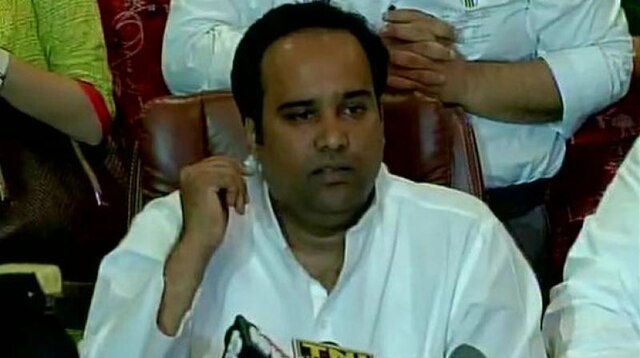 NEW DELHI: In another scathing attack on Arvind Kejriwal, ousted AAP MLA Asim Ahmed Khan hurled bribery allegations against the Delhi Chief Minister.

Khan alleged Kejriwal and his aides demanded Rs 5 crore from him for a cable network.

"They needed Rs. 25 crore to buy a cable network out of which Rs. 5 crore were asked from me. The rest was asked from other four other MLAs," India Today quoted Khan as saying.

They formed a team that went after me to pressurise me to give money. Then they started warning me that if you want to remain a Minister then you will have to give ₹5 crore.

Khan said he was pressurised to give money.

"Then they started warning me that if you want to remain a Minister then you will have to give Rs. 5 crore," he said.

Khan reportedly said that he was framed under false charges and thrown out of party after he refused to pay.

Earlier, sacked Delhi minister Kapil Mishra on Sunday accused Kejriwal of taking Rs 2 crore from his cabinet colleague Satyendar Jain. He said he has given a statement to Lt Governor Anil Baijal regarding various irregularities seen by him during his tenure as minister in Kejriwal's cabinet.

"I saw with my own eyes Satyendar Jain giving Rs 2 crore in cash to Arvind Kejriwal at his residence. When I asked Kejriwal, he said such things happen in politics and it will be revealed later," he alleged.

However, Deputy Chief Minister Manish Sisodia had defended the Chief Minister.

"The kind of allegations that have been made by Mishra against Kejriwal are unsubstantiated. No one will believe them," Sisodia told the media. "There is no substance in this allegation."

Sisodia said the allegations came just after Mishra was told he was being removed as minister.

Senior AAP leader Kumar Vishwas said even the worst enemies of Kejriwal can't imagine him to be corrupt.