O Panneerselvam all set to rise: Is political career of Sasikala Natarajan over?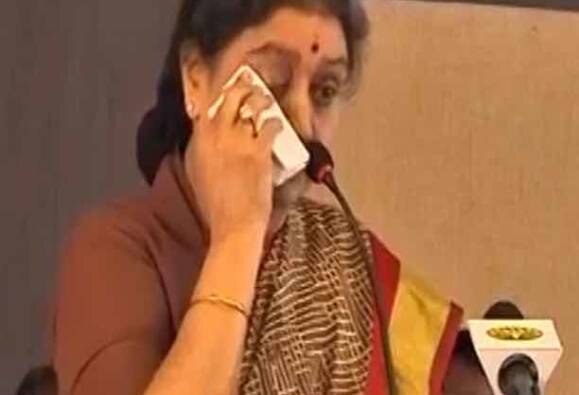 New Delhi: The apex court of the country, on Tuesday, has announced its verdict in which it announced 4 years jail to general secretary of AIADMK VK Sasikala in disproportionate assets case. 

With this the tussle between Chief Minister of Tamil Nadu O Pannerselvam and one who was dreaming to become CM of the state, Sasikala, has finally come to rest.

One the one hand, where Pannerselvam is likely to rule unopposed, AIADMK General Secretary Sasikala Natrajan will have to surrender herself to jail for undergoing remaining jail term.

However, now an important question comes--Is now the political career of Sasikala, close aid of late TN CM J Jayalalithaa, over?

Well, apparently, it can be said that yes, the political career of Sasikala is over. As a result of this judgement she will not be able to become CM for next 10 years. And keeping in mind rapidly changing political system in India, ten years, in other words a decade, is a really long time.

Meanwhile, the CM of TN Pannerselvam will make his position and hold on people even stronger all this while.

The all-important Supreme Court verdict has decided the future of AIADMK supremo VK Sasikala.

SC, however, abated the appeal proceedings against J Jayalalithaa owing to her death on December 5 last.

The Supreme Court has quashed Karnataka HC verdict acquitting AIADMK General Secretary Sasikala Natarajan in the disproportionate assets case.

Sasikala, who was elected AIADMK legislature party leader on February 5, is now ineligible for contesting an assembly election in the event of conviction.





Sasikala Natarajan: All you need to know about disproportionate assets case 

Jayalalithaa Jayaram commonly referred to as Amma was convicted for misusing her office during her tenure of 1991-96, especially her foster son lavish marriage in 1996 and to amass properties worth more than Rs 66.65 crores. In 1997, a raid in her Poes garden residence recovered 800 kg silver, 28 kg gold, 91 watches and other valuables. 

The trial went on for 18 years and on 27 September 2014, the judgement was pronounced  in the Special Court which convicted all four accused namely Jayalalithaa, Sasikala Natarajan, Ilavarasi and V.N. Sudhakaran and sentenced all to four years simple imprisonment.

However, in May 2015, Justice C.R. Kumaraswamy of the Karnataka High Court overturned the trial court's verdict and acquitted Jayalalithaa and others of all charges.

The bench of Justices P C Ghose and Amitava Roy, passed its order on a batch of appeals, including the one filed by the Karnataka government acquitting the main accused in the case, former Tamil Nadu chief minister the late J Jayalalithaa and three others, including Sasikala.

Tamil Nadu has a 234-member assembly.