Officials list 55 terror accused 'inspired' by Zakir Naik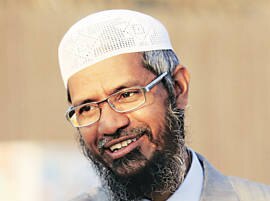 New Delhi: Pointing fingers at controversial Islamic preacher Zakir Naik, the security agencies have now come up with list of 55 terror accused, who have been arrested from across the country over the past 10 years and have claimed to be influenced by Naik's speeches.

It has been found that the name of the accused mentioned in the list have affiliations to groups such as the Lashkar-e-Toiba, Simi, Islamic State (IS) and Indian Mujahideen.

Recently Zakir Naik came into the lime light after two of the Dhaka cafe attackers who slaughtered 20 hostages are reported to have drawn inspiration from Naik's speeches.

The agencies are also probing the details of different cases registered against Naik in India in the past. While one of F.I.Rs is pending in the court, probe is on in rest three cases.

Commenting on the allegations put against him while addressing a press conference via video conferencing in Mumbai recently, Naik said "I have heard many allegations against me in the Indian media. As far as being afraid is concerned, I am not afraid at all. So far, there has been not a single Indian government authority which has called me. Just because the media has labelled allegations against me, I am not going to come to India for a media trial".