On Pak's Independence Day, Imran Khan Says 'Will Respond Ten Folds' If India Does Operation In PoK
Reiterating his Kashmir narrative Khan said targeting PM Modi: "I am of view that Modi is making a strategic blunder. He is playing his final card but it is going to be very expensive for India."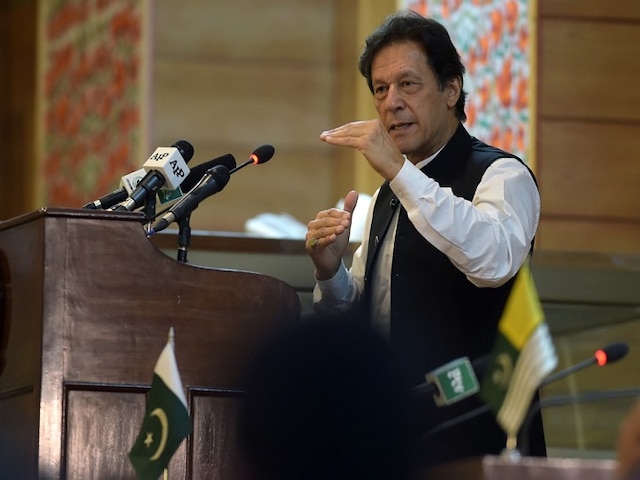 New Delhi: Pakistan Prime Minister Imran Khan in his speech on the occasion of country's 73rd Independence Day, warned India against undertaking any activity related to Pakistan-occupied-Kashmir saying that it would result in a war between the two countries.

His address to the nation was concentrated mostly on Indian government's decision of scrapping Article 3760 in Jammu and Kashmir revoking its special status and bifurcating it into two Union territories, instead of the economic crisis being faced by the country.

The leader of the cash-strapped economy, said that Pakistani Army is ready to take on India if the latter does an operation in PoK.

"I am telling Modi that if you try a skirmish, we will respond ten folds," Khan said.

Reiterating his Kashmir narrative, Khan said targeting PM Modi: "I am of view that Modi is making a strategic blunder. He is playing his final card but it is going to be very expensive for India."

He said that Pakistan has information India has a plan to carry out operations in PoK.

"To divert the world's attention of what they are doing under curfew in Kashmir, they want to do an operation in AJK. I am telling Modi that if you try a skirmish, we will respond ten folds", Khan said.

"Our army is battle hardened fighting a nearly 20 year war against terrorism. Our people are ready to defend our freedoms," he added

He said Pakistan is observing where the events go from here. "Pakistan is fully ready; our army, our people are on one page. We have decided we will not tolerate any violation and are fully ready to counter it," he said.

If this region goes to war, the world will be responsible. Those institutions responsible for keeping world peace, this is a trial of the United Nations, he said.

"The first important development is that Kashmir is now a global narrative; we have spoken to US President Trump about it; we brought it up at the OIC. Kashmir was not on the radar of the international community, but we as Pakistan have to ensure that this new momentum continues where Kashmir is in the global narrative. I pledge to be the ambassador of Kashmir", his party Pakistan Tehreek-e-Insaf tweeted parts of his speech.

He again compared Rashtriya Swayamsevak Sangh to Nazis in Germany and said that RSS ideology is exactly like the Nazi ideology and alleged that the RSS ideology is heading in the direction of World War 2 like genocide.