OPINION-Rahul Gandhi all set to become Congress president: Challenges waiting for him 'with open arms'
Interestingly, Sonia Gandhi is the longest serving president of the Congress party. She took over as the party president in the year 1998.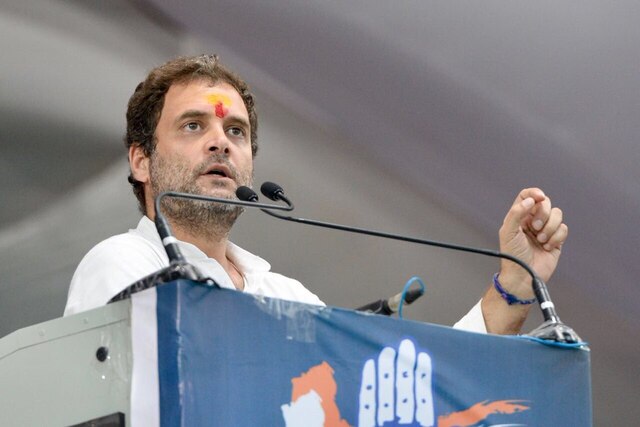 The
Congress
vice-president
Rahul Gandhi
, who these days is busy in campaigning for the party in Gujarat, will be declared president of the party on Monday. He will take reins of the grand old party from the hands of his mother Sonia Gandhi.
Interestingly,
Sonia Gandhi
is the longest serving president of the Congress party. She took over as the party president in the year 1998.
The chairperson of the Indian Youth Congress and the National Students Union of India, Rahul Gandhi will have to face mammoth tasks, from day one, after becoming the president.
Challenges awaiting Rahul Gandhi
First and foremost will be to prepare the party for 2019 General Elections. Congress desperately has to perform well in 2019 if it wants to hold political ground in the country.
It may be recalled that in 2014 General Elections Congress party got only 44 seats and BJP 282.
The
second
responsibility will be to play an active role in the formation of
grand alliance
(
mahagatbandhan
), if something like this comes to existence at the national level.
In Bihar, grand alliance already took form (to keep BJP away from power) and now something like this may be tested on national level. Being a major party, the Congress in general and Rahul Gandhi in particular will have to play a major  role.
The
third
challenge which Rahul Gandh may face, after becoming the president, is rebellion from within the party. Recently, Maharashtra Congress activist
Shehzad Poonawalla
questioned Rahul Gandhi's elevation.
Poonawalla took to Twitter to say that the election was just 'meant for princes,' in an attack at Rahul Gandhi. "Better call it coronation of 'shehzada' which no Shehzad can question," he said on the micro-blogging website.
Last but not the least, before the 2019 General Elections, there are eight state legislative assembly elections in 2018. And in each of them, Rahul Gandhi has to put his every effort possible to turn the fortune of his party. Important states are Rajasthan, Chattissgarh and Madhya Pradesh which are presently ruled by BJP and Rahul Gandhi has to work really hard to make his party win in these states.
North-east states like Mizoram, Nagaland and Tripura will also witness ballot in 2018. And it will be the responsibility of Gandhi to make his party position strong in these states too.
Winning in these elections or at least performing well will make it easy for Congress to perform strongly in 2019 General Elections.
The boldly Rahul Gandhi will face these hurdles, the better it will be for him and his party Congress.
About the author: 
Author is an Associate Producer in ABP News Network Pvt Ltd and tweets at @AnuragSason

Disclaimer: The views expressed by the author are personal and do not reflect the opinions, beliefs and views of ABP News Network Pvt Ltd.