Overall increase in indirect taxes for the month of April to Dec '16 compared to last year is 25%: Jaitley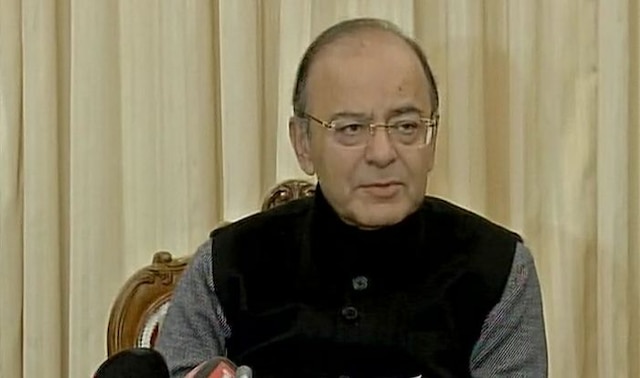 By:

ANI
Updated:
09 Jan 2017 12:46 PM
New Delhi:  Finance Minister Arun Jaitley on Monday addressed the media on Direct and Indirect tax Figures in Delhi. Here are the key points of Jaitley's address.
PIB Photo


Overall increase in indirect taxes for the month of April to Dec '16 compared to same figures last year is 25%


From April to Dec this year the increase in direct tax is 12.01% and indirect tax is 25 %, compared to last year


Central Excise increased 31.6% in December 2016 as compared to December 2015


In December 2016 compared to last December, the customs has actually declined, it is - 6.3%


Compared to November 2016, the growth of Indirect Tax in December 2016 is 12.8%


Direct taxes for the first 3 quarters has moved up, indirect taxes significantly moved up


For most States VAT collections have increased


We're discussing the issue,have asked Secy DEA to discuss issue with banks,Petroleum Min is also in touch, says FM on on petrol pump transaction fee


More details:
On Sunday, in a Facebook post, titled 'Demonetisation -- A look back at the last two months', the Finance Minister said in his post, Jaitley said there was no social unrest while implementing a major decision like demonetisation and cited opinion polls conducted by media organisations which said that an overwhelmingly large percentage of people have supported the government's decision.
Belying fears of slowdown in industrial activity post demonetisation, the indirect tax collection in November, 2016 alone grew 23.1 per cent to Rs 67,358 crore. The total April-November, 2016 realisation grew 26.2 per cent to Rs 7.53 lakh crore, he said.
Jaitley had earlier said revenue trends show that the impact of note ban has not been as much as estimated by critics.
Between April-December 19, 2016, the increase in income tax was 14.4 per cent and, after adjusting for large refunds, the net increase is 13.6 per cent.