Pakistan may face more turmoil after Sharif's resignation: Experts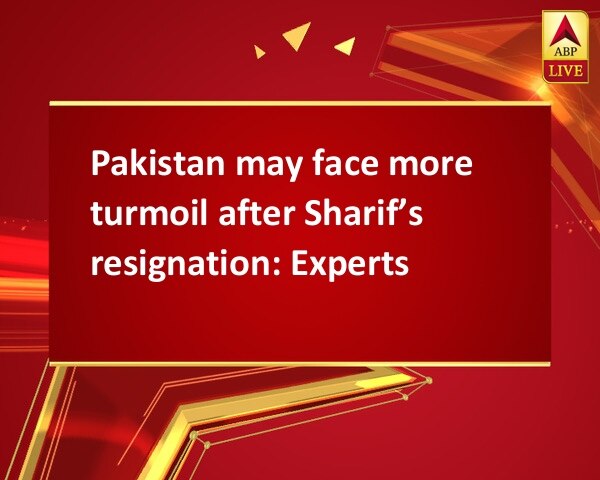 By:

ANI
Updated:
28 Jul 2017 09:25 PM
New Delhi [India], July 28 (ANI): The Pakistan Supreme Court's decision to disqualify Prime Minister Nawaz Sharif from holding office after declaring him guilty of acquiring illegall offshore assets and lying to the nation, will weaken civilian rule in the nation, feel experts and observers here.
Talking exclusively to ANI over phone, Harsh V. Pant, Distinguished Fellow and Head of Strategic Studies at Observer Research Foundation, New Delhi, and Professor of International Relations at King's College, London, said, "The disqualification of Pakistan Prime Minister Nawaz Sharif will further weaken democracy in Pakistan and the civilian government in Pakistan. It will give more access to the country's army to control the government."
Pant predicted that the adverse majority 5-0 apex court verdict against Sharif, his family and Finance Minister Ishaq Dar, will bring more turmoil to the country, as the next prime minister, whosoever he may be, will not be a democratically-elected one, but an appointed person named by Sharif. He opined that Sharif would like to hold on to the levers of controleven after his ouster.
"Pakistan Prime Minister Nawaz Sharif has become weaker since the Panama Gate scandal surfaced last year. As the case progressed in the court, he became weaker by day. He was not able to perform and tried to divert the people's attention by escalating tensions along the Indo-Pak border," Pant said.
Major General (Retired) Shashi Asthana, Chief Instructor, USI of India, and former Additional Director General of the Infantry, told ANI, "It is sensational news, but from an Indian point of view, it is of little significance."
"The main reason for saying so is that irrespective of who is the Prime Minister of Pakistan, it is the Pakistan Army, which calls the shots and their aims and objectives don't change with the personality of Prime Minister," he added.
"Sharif's disqualification was well anticipated and his, and his aides involvement in corruption, was well known to all who matter in Pakistan. The anti-India agenda is the rallying point for Pakistani politicians and for the army, Kashmir is the focal point. This will not change," Major General Asthana said.
On who could emerge as Sharif's successor, Professor Pant opined that, "There are many names being taken as successors to Sharif as PM, but none of the names look capable. There is also the fact that the person taking over will not have the people's mandate. He will not be coming from a open political process. Thus, the new Prime Minister will not be a strong leader and will only be at the mercy of his political mentor (Sharif) and the powerful military leadership."
He also said that Sharif's disqualification will not have any major impact on Indo-Pak relations, as Pakistan's politicians, whether the ruling party or the opposition and the military share the same anti-India agenda.
"Kashmir is the rallying point for all of them with the army as focal point. It will also not have any impact on the China-Pakistan Economic Corridor (CPEC) project, because Pakistan has already militarised it and the Pakistan Army has already announced that it will safeguard Chinese interests insofar as the CPEC is concerned.
Major General (Retired) D.K.Mehta, another defence expert, said, "This is all an orchestration of the army which is controlling the judiciary also, and that's why when the Pakistan Supreme Court appointed a JIT against Nawaz Sharif with regard to the Panama Gate scandal, they included Pakistan Army officers."
He further said, "Although Pakistan is trying to showcase that its judiciary is transparent and independent, this is not reality. One of the judges had made a statement in the past that he was forced to resign by the military. Also, it may be recalled that the courts in Pakistan have not been able to convict former Pakistan president General Pervez Musharraf, who is facing several charges of murder, abduction, treason and conspiracy of toppling the civilian government. He has also been allowed to go out of the country by these same courts."
Major General (Retired) Mehta further stated that the courts in Pakistan are under the strong influence of the military, have also not been able to do much about internationally declared terrorists such as Hafiz Saeed and others.
When asked to comment about the possibility of Defence Minister Khwaja Asif taking over as caretaker Prime Minister of Pakistan, Major General (Retired) Mehta said, " He is a loose canon, as he has been spewing venom against India in the recent past. There is a possibility of him joining up with the military to take the anti-India discourse forward. I don't visualise any change in the anti-India rhetoric after Nawaz Sharif's disqualification."
He also said that there will be no impact on the progress of the CPEC, as Pakistan's incumbent army chief Gen.Bajwa has already stated that the project is in the interest of the people of Pakistan.
Qamar Agha, a defence expert, said, "I see a Pakistani military hand in this Panama Case government. Pakistani judiciary and military have very close ties."
Nawaz Sharif has paid the price of being democratic in a military-dominant country, he added. (ANI)
This story has not been edited. It has been published as provided by ANI