Shifting of Shahabuddin to Delhi's Tihar jail begins amid tight security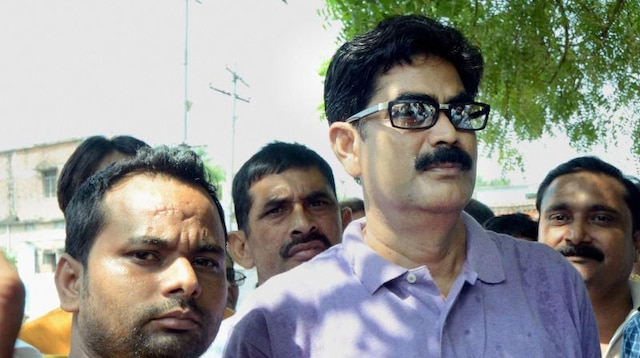 Patna: Tihar jail will be the new home for Rashtriya Janata Dal (RJD) strongman Mohammad Shahabuddin. The criminal turned politician was shifted from Siwan Jail to Patna amid tight security, on early hours of Saturday; from where he will be brought to New Delhi on the Supreme Court's orders.

Shahabuddin was escorted out Siwan jail around 2:40 a.m., flanked by security personnel and police. However, despite the secretive efforts of the prison administration, supporters of Shahabuddin got wind of the developments and gathered outside the jail from midnight onwards to get a glimpse of their leader.

Carrying on with their operations, the Siwan administration escorted Shahabuddin to a white Tata Sumo, where he was lodged between two armed security officials. From Patna, Shahabuddin will be taken to the national capital via rail or airway and then moved into Tihar jail.

Earlier this week, the apex court had said that Shahabuddin's trial will be conducted through video conferencing and no special treatment will be given to him in Tihar jail, adding that trial in all 45 pending criminal cases be conducted through video conferencing only.

Holding that it is the "obligation and duty" of the court to ensure free and fair trial, a bench of Justices Dipak Misra and Amitava Roy said that Shahabuddin's presence in Bihar would discourage the witnesses to depose against him as he was a influential and powerful person and he must be shifted out of the state.

Last month, Shahabuddin triggered a row with his purported selfie showing his changed look inside Siwan prison, which went viral on the social media. Siwan jail officials, however, denied that a selfie was clicked by Shahabuddin and said some "well-wisher" who might have come to meet him could have taken the photo and posted it on the social media. Asha Ranjan, the wife of the deceased journalist, Ranjan Rajdeo, had filed a plea stating that free and fair trial against Shahabuddin was not possible if he remain lodged in the Bihar jail as witnesses would not be able to depose against him with his goons threatening them.

42-year-old Rajdeo was shot dead in July last year at Phal Mandi near the Siwan Railway Station, barely half-a-kilometre from the police station. The Bihar Government had recommended the Central Bureau Investigation (CBI) to probe the case.

The case came into limelight again after a photograph appeared in the media showing murder suspects Mohammad Kaif and Mohammad Javed with gangster-politician Mohammed Shahabuddin after his release from jail. Kaif, however, later rubbished all accusations against him and said he has no involvement in Rajdeo's murder case.