PM Modi arrives in Britain for three-day visit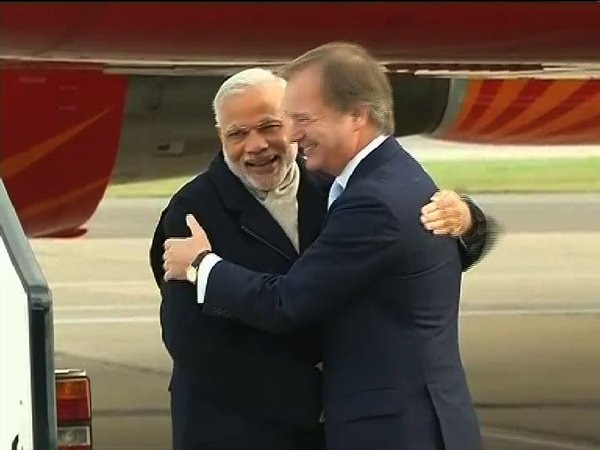 London: Prime Minister Narendra Modi arrived in London on Thursday for a three-day visit to Britain that will see India and Britain sign a number of pacts on mutual investments and defence cooperation.
Modi, wearing a dark coat, stepped out of the aircraft with folded 'namaste'.
In a series of pre-departure Facebook posts, Modi said: "My visit is aimed at strengthening cooperation with a traditional friend that is not only a major economic partner of India but also one of the leading economic players of the world."
Modi's visit to Britain is the first bilateral visit by an Indian prime minister in nine years after Manmohan Singh's visit in 2006. Singh visited Britain in 2009 to attend the G-20 summit.
"UK is one of the fastest growing G-7 economies and is home to a strong financial services sector," Modi stated. "I see immense scope for our economic and trade relations to improve and this will benefit both our economies," he added.
On November 14, Modi will leave for Turkey to attend the annual G-20 summit



Leaving for UK. I am hopeful this visit will strengthen economic ties between India and UK & bring more investment to India. #makeinindia


— Narendra Modi (@narendramodi) November 12, 2015
He will have talks with Cameron at 10 Downing Street and then address a joint press conference at the Foreign and Commonwealth Office (FCO) after the bilateral talks.
A brief stop to pay tributes at the Mahatma Gandhi statue in Parliament Square will be followed by speeches at the Houses of Parliament and then at the Guildhall in the financial hub of London.
His talks with Cameron will carry on at the British Prime Minister's country residence of Chequers in Buckinghamshire, where he is being hosted overnight.
The Indian government has prepared a dossier listing underworld don Dawood Ibrahim's properties in the United Kingdom. Apart from submitting it, PM Modi will discuss the issue of Khalistani terror with British Prime Minister David Cameron
On Friday, Modi returns London for a CEOs round-table which is likely to include representatives from major British companies like Rolls-Royce and Vodafone.
The pomp and ceremony attached to the visit is expected to include a special tricolour flypast by the Red Arrows Royal Air Force (RAF) Aerobatic Team over Buckingham Palace before the Prime Minister sits down for lunch with Queen Elizabeth II on Friday afternoon before making his way to Wembley Stadium in north London for the mega Diaspora reception.
He leaves for Ankara to attend the G20 summit on Saturday after inaugurating a new statue of 12th century philosopher Basaveshwara as well as a new Ambedkar memorial in London.
A visit to the Tata Motors' owned Jaguar Land Rover (JLR) factory in Solihull, in the West Midlands region of England, will be the last item on his UK agenda.
"My visit to UK is the first Prime Ministerial visit in almost a decade. I have had the opportunity to meet Prime Minister David Cameron at various international forums and our meetings have been productive.
Prime Minister Cameron is a good friend of India's, and we in India have had the privilege of welcoming him thrice during his first term as Prime Minister," Modi had written in a Facebook post ahead of the visit.