PM Modi arrives in Pretoria, to meet South African President today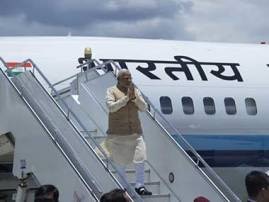 By:

ANI
Updated:
08 Jul 2016 02:49 AM
Pretoria (South Africa): Concluding his one-day visit to Mozambique, Prime Minister Narendra Modi arrived here on Thursday evening on the second leg of his four-nation five-day tour to the African Continent with an aim to enhance mutual cooperation and understanding on major issues of common interest. He will be meeting the South African President, Jacob Zuma, today.

South African Minister of International Relations and Cooperation Nkoana-Mashabane and Minister for Small Business Lindiwe Zulu welcomed the Prime Minister at the Waterkloof Air Force Base here, from where he departed for Sheraton Pretoria Hotel, where he is staying.

Around 9 a.m. (local time) on Friday, Prime Minister Modi will visit the Union Building, where he will be receiving a ceremonial welcome. Thereafter, he will have a tete-a-tete with President Jacob Zuma, followed by meetings with other senior leaders across the political spectrum to further enhance relations with South Africa.

He will meet Deputy President Cyril Ramaphosa, and participate in the India-South Africa Business Meet, in an effort to boost economic ties between the two countries. Thereafter, he will depart for Johannesburg. The Prime Minister is also expected to visit Pietermaritzburg and Durban.

With South Africa, India cooperates and works closely in multi-lateral fora like BRICS, IBSA, G20 and BASIC.

Underlining that on the evening of July 7, he reached Pretoria in South Africa, which is an important strategic partner with whom India's ties are historical and deep-rooted, the Prime Minister had said before embarking on his four-nation tour: "My programmes in South Africa will span across Pretoria, Johannesburg, Durban and Pietermaritzburg. History is witness to how Mahatma Gandhi's stay in South Africa impacted him and the history of the world. He went to South Africa as a lawyer seeking work and returned to India as a strong voice for humanitarian values, who would go on to shape the history of humankind."

"I will have the honour to visit Phoenix Settlement and Pietermaritzburg Station, two places very closely associated with Mahatma Gandhi's stay in South Africa. A visit to South Africa is incomplete without remembering the beloved 'Madiba'. I will also be honoured to visit the Constitutional Hill and Nelson Mandela Foundation, where I would pay my tributes to an icon of human history, who made his country and the world a much better place," said Prime Minister Modi in a statement.

Noting that South Africa is home to a vibrant Indian community that has made South Africa their home for years, the Prime Minister said: "I will interact with the Indian community in a programme at Johannesburg on July 8. I invite you to share your ideas and inputs for my speech, through the 'Narendra Modi Mobile App'."

On July 10, the Prime Minister will depart for Tanzania, where he will have meetings with President John Pombe Joseph Magufuli.

The Prime Minister will be in Kenya the next day, where he will have bilateral discussions with President Kenyatta.