PM Modi gave his gold garland to engineering student after request on Twitter
He also received a letter saying "I am sending you a letter along with the garland as a gift"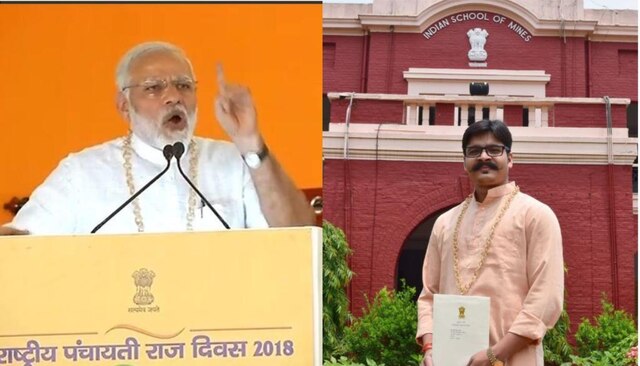 NEW DELHI:
An interesting new story is being circulated on Twitter, where an engineer named Rabesh Kumar Singh claims that he was given PM Modi's gold garland.



प्रधानमंत्री @narendramodi जी नमस्ते
आप को पंचायती राज दिवस पर सुन रहा था, बहुत ही सुन्दर उद्बोधन
आप के गले में सोने के रंग जैसा माला देखा बहुत ही अच्छा लगा, क्या ये माला मुझे सकता है | #PanchayatiRajDay pic.twitter.com/rbcrs8hwaXpic.twitter.com/5M5KttA6dL


— Rabesh Kumar Singh (@RabeshKumar) April 24, 2018
Rabesh Kumar Singh who is a mechanical engineering student of Indian Institute of Technology (Indian School of Mines), Dhanbad on Twitter had asked the Prime Minister for a garland. The garland was worn by Modi during a public rally in Madhya Pradesh.



Every drop of water should be conserved; think about what you can do for #WaterConservation in villages: PM @narendramodi #PanchayatiRajDay pic.twitter.com/fWGb9VlXDf


— Doordarshan News (@DDNewsLive) April 24, 2018
The post by Rabesh says "I was listening to you on Panchayati Raj Day; you gave a very nice speech. I liked the gold-coloured garland you were wearing. Can I get the same?"



आप का उपहार और स्नेह भरा पत्र पाकर मन प्रफुल्लित हो गया |
इस माला रूपी उपहार और शुभकामना संदेश के लिए,
आप का कोटि कोटि धन्यवाद #प्रधानमंत्री श्री नरेंद्र मोदी जी 🙏@narendramodi @PMOIndia
हम सब आम लोगों तक आप का ये स्नेह अएसे ही पहुँचता रहे 🙏#जय_हिन्द #जय_भारत #भारत_माता_की_जय pic.twitter.com/1F1i0UEwYi


— Rabesh Kumar Singh (@RabeshKumar) May 2, 2018
He then received the same garland along with a letter by Prime Minister himself. Rabesh said  ' I received the garland within 7 days of my request, I was elated'