PM Modi unveils cooking gas scheme for poor in Karnataka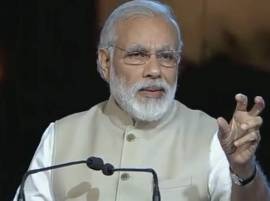 Davangere (Karnataka):
Prime Minister Narendra Modi on Sunday said that more than three crore families have got cooking gas connections in last one year as he launched the Ujjwala Yojana scheme to provide connection to poor families in Karnataka.
"Under the scheme, we will provide cooking gas connection without security deposit to five crore (50 million) women from BPL (below poverty line) households across the country in the next three years," Modi said at a massive rally in this Karnataka textile town, 260 km from Bengaluru.
"More than three crore families have got gas connections in the last one year of our government," he added.
Asserting that the scheme would improve health of women as they won't have to inhale smoke from firewood for cooking food, Modi said studies have shown that these fumes were equivalent to smoke from about 400 burning cigarettes.
"Cooking on gas is not only economical and beneficial to women's health, but also helps us to conserve forest wood, which is still used for cooking food in rural areas," Modi, who was speaking in Hindi, told the gathering of about one lakh people.
Expressing gratitude to 1.13 crore consumers across the country for surrendering cooking gas subsidy till date, Modi said there was a dramatic change in the mindset of the people, as evident from the overwhelming response to his appeal for this purpose.
"People from even middle class are coming forward to surrender the subsidy given on cooking gas cylinders. Their gesture is helping the government in providing subsidised cooking gas connection to women in poor households," he reiterated.
Modi also noted that both the central and state governments will have to work in tandem to tackle the drought situations that have hit a major part of the country.
"I have met the chief ministers of the affected states. We are focusing on irrigation and water conservation facilities. Center and states will work together to fight drought situation," he said.
Marking two years of the BJP-led NDA government at the 'Vikas Parv' rally, Modi flagged the various schemes launched for the welfare of the people, especially the poor, underprivileged and economically backward.
The prime minister also spoke on how his government's populist schemes such as Jan Dhan Yojna, Swachh Bharat Abhiyan and 'Beti Bachao, Beti Padao' were benefitting millions of people across the country over the last year.