Pradhan tells OPEC: India expects 'reasonable' crude oil price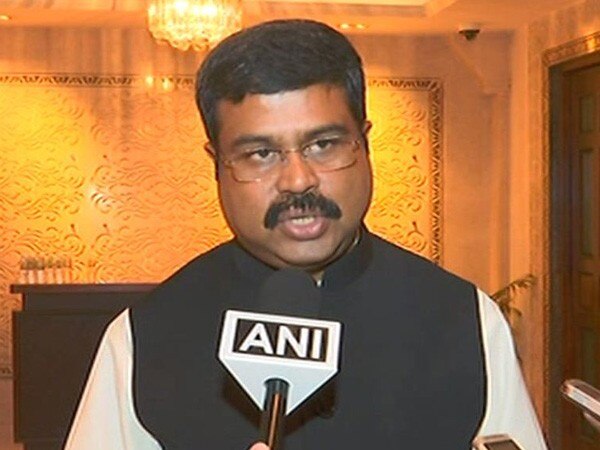 By:

ANI
Updated:
08 Oct 2017 10:30 PM
New Delhi [India] Oct 8 (ANI): Union Minister of Petroleum and Natural Gas Dharmendra Pradhan on Sunday told Secretary General of OPEC (Organisation of the Petroleum Exporting Countries) Sanusi Mohammad Barkindo that India expects reasonable crude oil price from OPEC member countries.
Barkindo is in India to attend the first CERAWEEK India Energy Forum. He held a meeting with Pradhan here wherein they discussed the current scenario of oil and gas industry of the world and exchanged notes on the recent developments.
Briefing media about the meeting, Pradhan said, "I have reiterated in the meeting that India as an emerging and big market expects reasonable price. We know for the continuous production, there must be price stability. Price stability must also be in the interest of consumers. This is the consistent stand India is taking."
The minister hoped that OPEC will understand India's point of view.
During the meeting, Pradhan reiterated that OPEC should work towards "Responsible Pricing" which is important for India for socio-economic and developmental reasons.
Pradhan highlighted that in today's oversupplied market, it was important for producers to understand the perspective of consuming countries and the changes that have taken place in these demand centers.
He emphasised India's earlier view of 'Asian Dividend rather than charging Asian Premium' on the crude supplied to India and said that countries like India should actually be the "preferred destination" for OPEC.
India's engagement with OPEC is an important as India sources about 86% of crude oil, 75% of natural gas, 95% of LPG from OPEC member countries.
He suggested that OPEC at its ministerial meetings give wider consideration to India's requests.
Talking to media about the new crude oil supply sources, Pradhan said, "In the recent past, some of our refiners have procured crude oil from different sources through a competitive route. I hope that the OPEC will understand our point."
India is putting a lot of emphasis on diversifying its crude oil supply sources and tapping new supply sources. Recently, two shipments of crude oil cargo of 1.6 million barrels from US have arrived in India.
The three Indian public sector refineries have already placed a cumulative order 7.85 million barrel from the US. In addition, a private sector refiner has also placed an order of 2 million barrel from the US.
Pradhan and Barkindo had last met in Vienna in May 2017 for the 2nd India-OPEC Institutional Dialogue. (ANI)
This story has not been edited. It has been published as provided by ANI